January 17, 2020
HPD notified our school of a complaint of illegal parking on Moho, Pahoa, and surrounding streets. Therefore, police officers will be monitoring the area. Please be aware of no parking signs. Vehicles may be subject to a citation or towing.
January 15, 2020
On Thursday January 16 each student will bring home a hard copy survey in an envelope. This is the survey that provides official data on how we're doing as a school when it comes to safety and wellbeing. Please fill out your survey(s) and return using the self-addressed envelope(s) included. You may fill out one per student! Last year, 25 Hawai'i DOE schools had parent survey return rates ranging from 50 - 87%. We'd like to reach a return rate much higher than we've had in the past. The deadline for completing the survey is March 13. Mahalo!!! -Mrs. Brizuela (Post on: 1/16, 1/17, 1/21)
Plan to join us and bring your entire family. Suggested donation per family is $50-$75. Form is due with donation on or before January 24, 2020. Wristbands will be delivered to to your child's classroom the day of the carnival.
LJA is proud to offer for the first time a post-high school scholarship opportunity, the Kama'aina Pet Hospital Science Award, thanks to the generosity of LJA parents Erik and Deanna Pegg.
Erik and Deanna have been veterinarians for over 10 years, and are the owners of Kama'aina Pet Hospital in Honolulu, Hawaii. They are passionate about animals and the community they serve, and got to where they are today through hard work and sacrifice. They hope to inspire and support students who share the same drive, work ethic, and commitment to the field of science as they do. This annual award of $1,500 is to help graduates of LJA pursuing a bachelor's or advanced degree in science to afford the extras that can truly make a difference in their educational success.
Applications for this scholarship opportunity are due February 15, 2020. Click here for criteria, requirements, and the application form.
Congratulations to our intermediate basketball boys for winning the ILH Division II Championship! After winning the single elimination tournament, they went on to beat Hanalani for the league championship. Go Bulldogs!
January 08, 2020
December 31, 2019
As this year closes out, we reflect on all the great events, big and small, that happened in 2019. Let's take a look back at some of our year's highlights through the top nine, most-liked posts from IPA's Instagram.
9. NHS Fall Food Drive for the Hawai'i Food Bank
8. Breakfast with the Board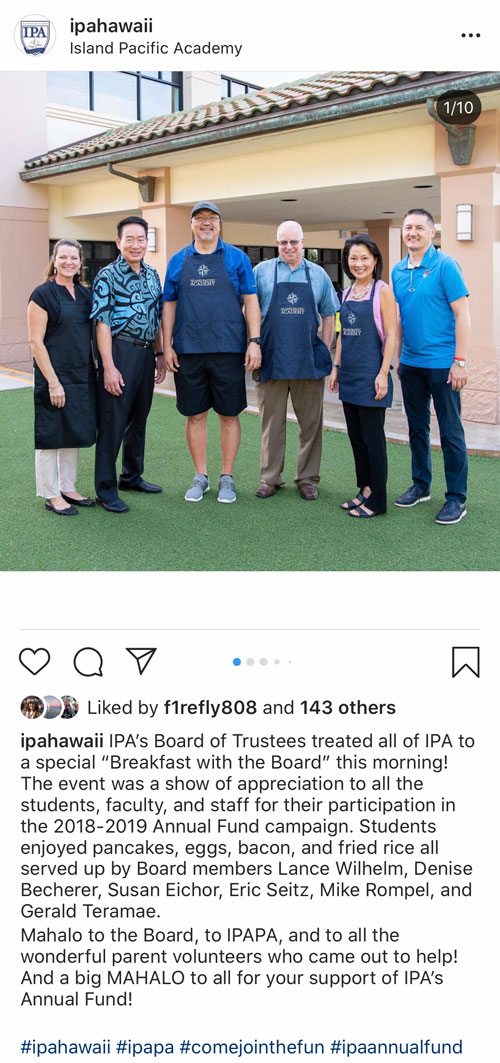 7. IPAPA's Fall Family Movie Night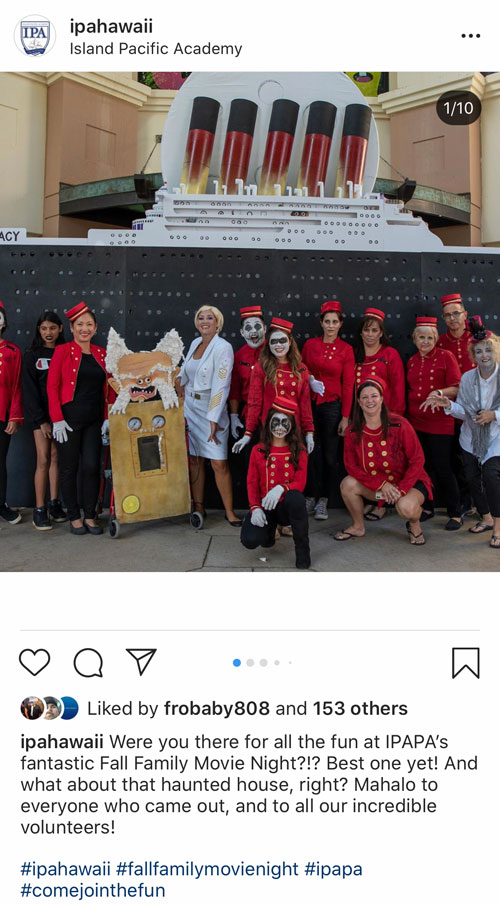 6. IPA Girls' Intermediate Volleyball Division III Champions
5. Class of 2019 Senior Walk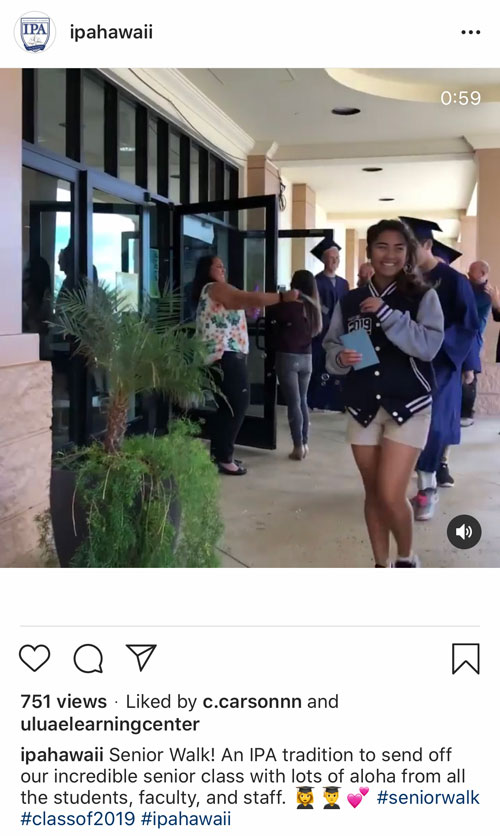 4. IPA's 15th Founders' Day Celebration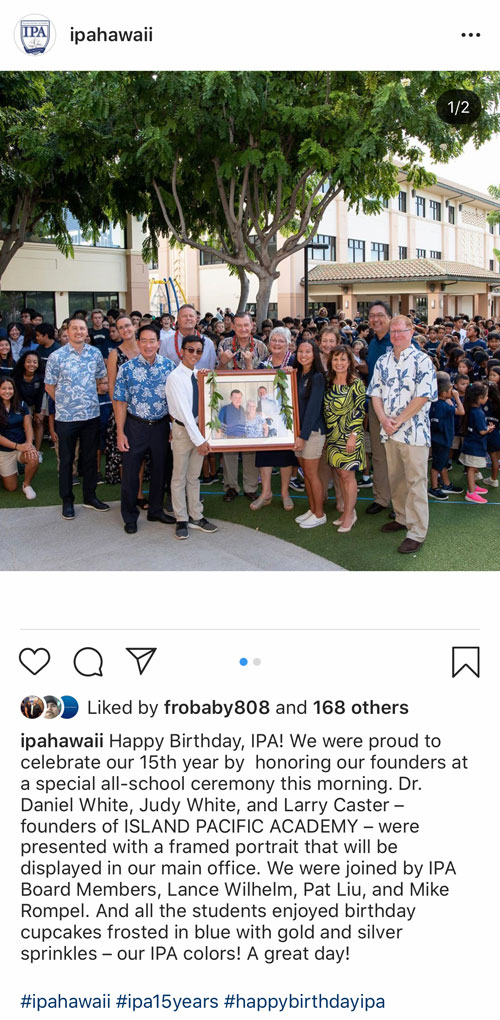 3. Class of 2019 Commencement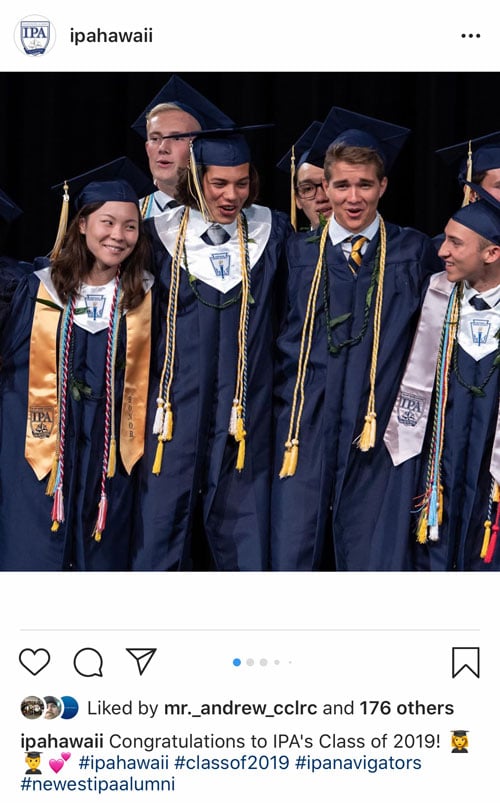 2. May Day at Pu'uokapolei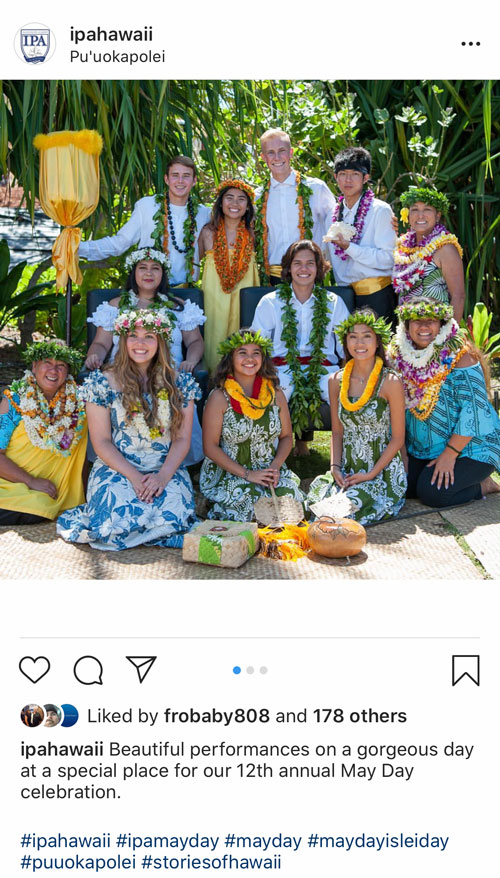 1. Installation of Photovoltaic System on Campus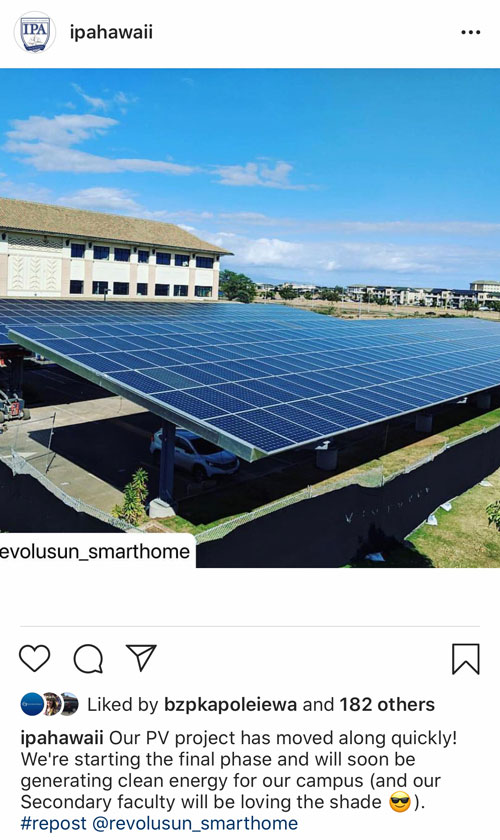 We are excited for 2020 and look forward to another wonderful year with our IPA 'ohana. Happy New Year!
The post 2019 in Review – IPA's Top Instagram Posts appeared first on Island Pacific Academy.
by Tricia Murata at December 31, 2019 07:04 PM
The Asbestos Hazard Emergency Response Act (AHERA) requires our school to notify parents,
faculty,
and staff of the presences and status of asbestos-containing materials in school buildings. The law further requires a management plan based on the findings of the initial inspection. We are fortunate as Mililani Middle School does not have any asbestos-containing materials in our school buildings. Please contact Vice Principal Jacob
Kardash or
Greg Nakasone for additional information.
by Unknown (noreply@blogger.com) at December 31, 2019 07:00 PM
December 30, 2019
December 18, 2019
Kahuku High School's Drama Club puts on "Cinderella", a special improv theater production by the students.
December 17, 2019
Enjoy your family time! Students return to school on Wednesday, January 8th.
December 16, 2019
Senior Aiden Spagnoli signed a national Letter of Intent to attend Loyola Marymount University where he will be playing Division I soccer! Congrats Aiden and the Spagnoli 'ohana!
December 11, 2019
If you ordered from the PTO Regal Foods Fundraiser, please stop by the cafeteria on Thursday, December 12th, 2:30-5:30. This is the ONLY pick up day. Mahalo for supporting the PTO.
December 09, 2019
It was a perfectly beautiful night on campus last Friday, December 6, to celebrate the Secondary Arts at ISLAND PACIFIC ACADEMY's Hoʻike Night. The annual event organized by the Secondary Art department celebrates the creativity of IPA's secondary students and highlights the importance of the arts program in the secondary curriculum. Parents and the IPA community were invited to an evening showcasing the artwork and music of our IPA secondary students.
The MPR was transformed into a gallery with art pieces from students in Grades 6-12 displayed on the walls and on tabletops around the room. The Grade 6 Design Tech students presented their custom designed cereal boxes to raise awareness about the impacts of unhealthy eating habits. Grade 9-12 students in the Jewelry & Metalsmithing class showed off the 3D miniature metal rocking chairs they crafted using brass sheets and their new metalsmithing techniques and skills. All students in grades 6-12 were invited to submit their drawings, paintings, and digital artwork to the gallery, showcasing a diversity of styles, themes, and media.
IPA ceramics teacher, Warren Andrade, fired up his kilns again this year for the popular make-and-take raku firing. Guests purchased pre-made ceramic pots, painted them with different glazes, and then watched as Andrade fired, smoked, and cooled each piece to create beautiful and unique ceramics for them to take home.
The highlight of the evening was the Winter Music Concert led by Secondary music teacher, Ellie Healey. The MPR was filled to capacity as the IPA band and orchestra performed some lively seasonal pieces mixed in with some classics. Several IPA secondary students also performed solo pieces during the concert, including Maddy Arvman '25, Jackie Arvman '26, Addis Belay '25, Hailey Teramae '25, Kaya Gabriel-Medeiros '24, Lauren Shin '24, and Mina Cintron '20.
The evening was a beautiful celebration of the visual, ceramic, and music arts and was an inspiring showcase of the many talented and passionate students at ISLAND PACIFIC ACADEMY.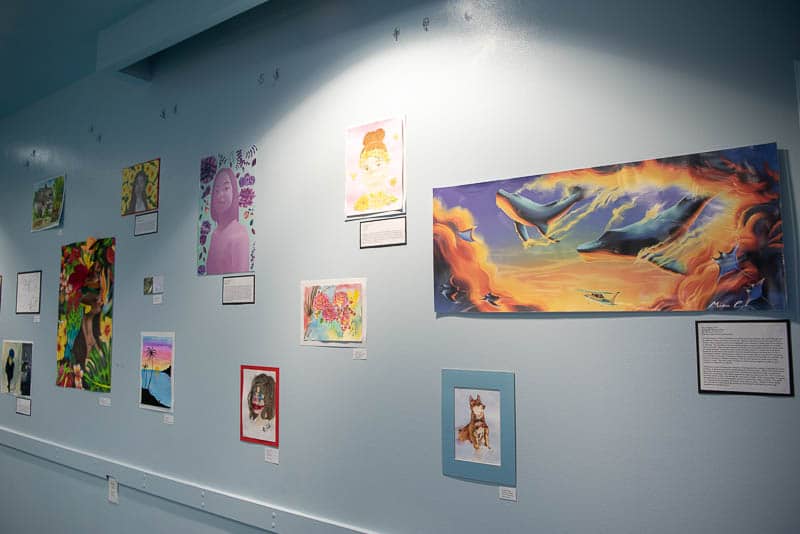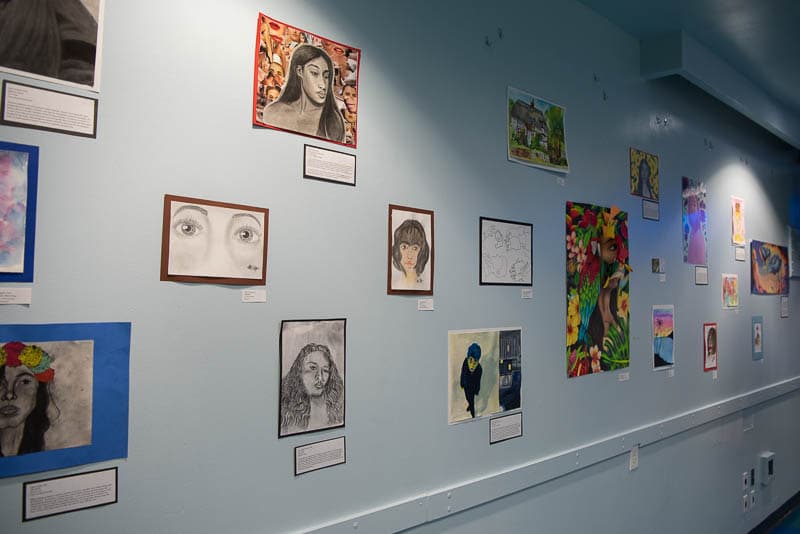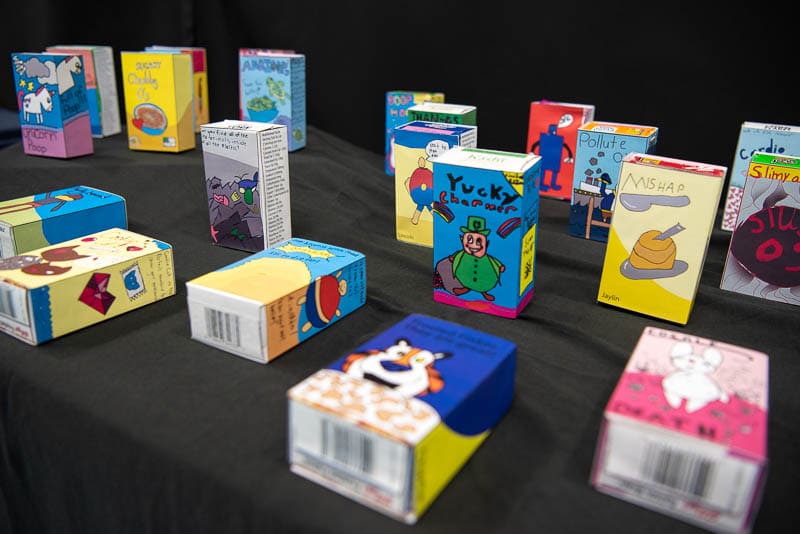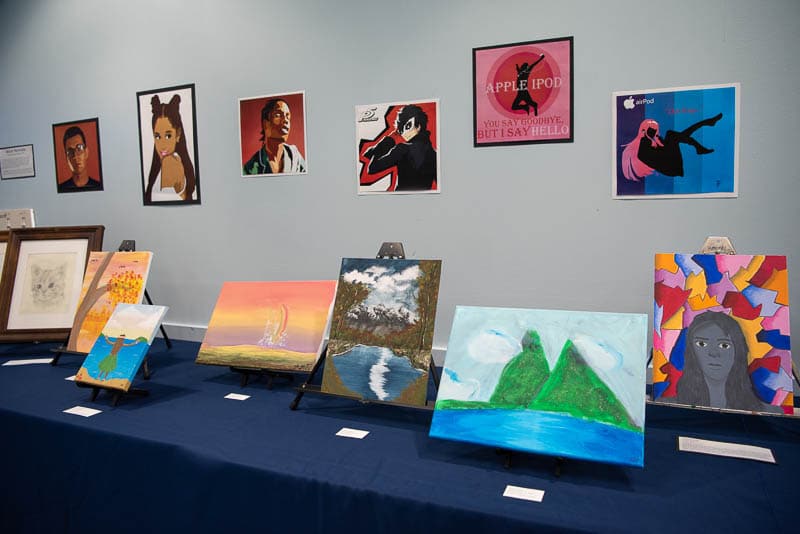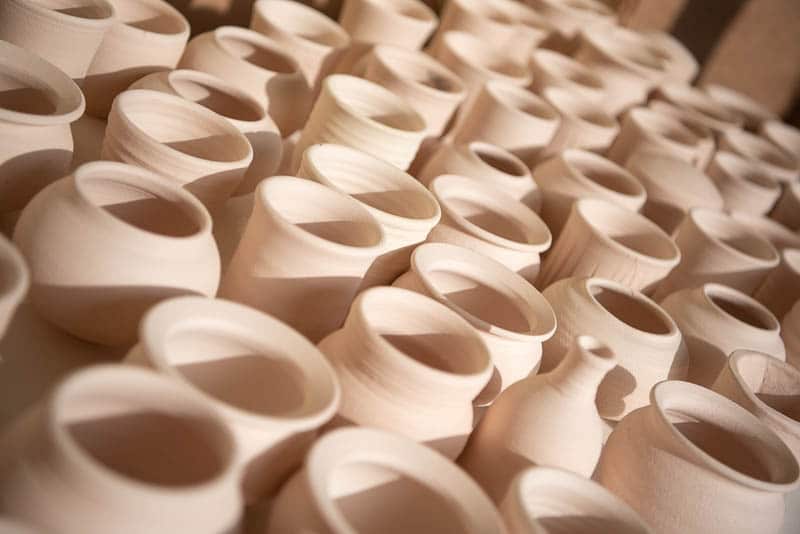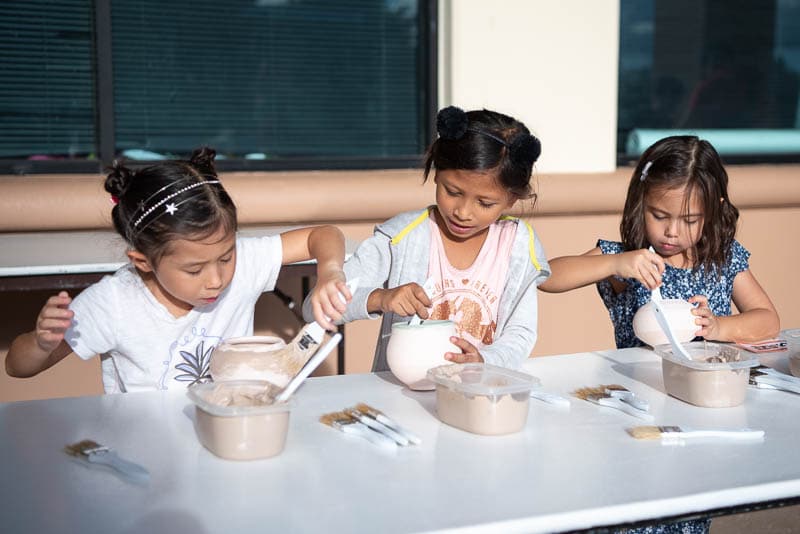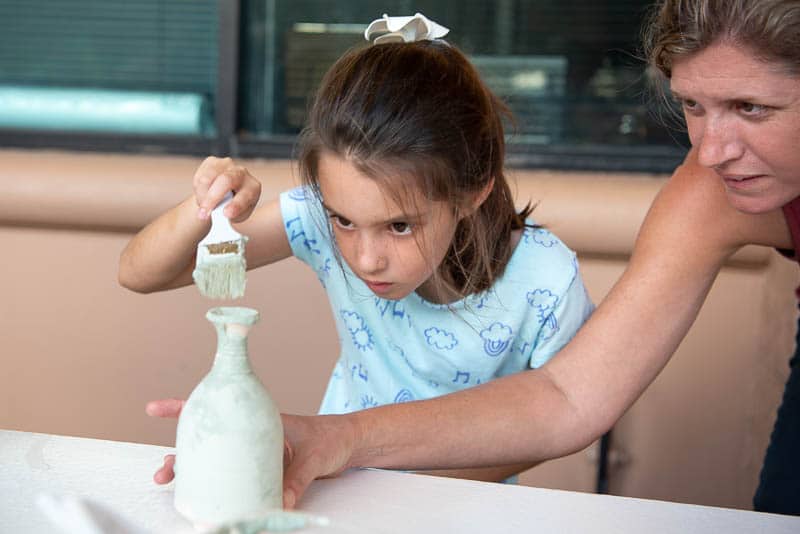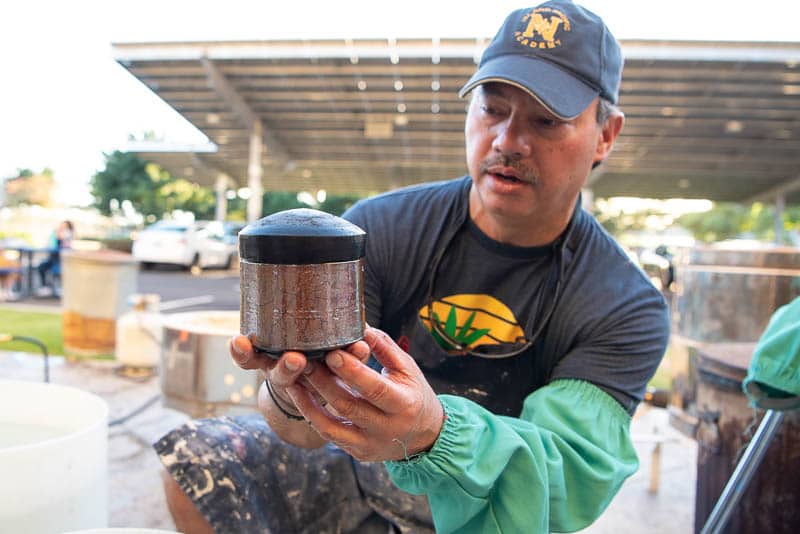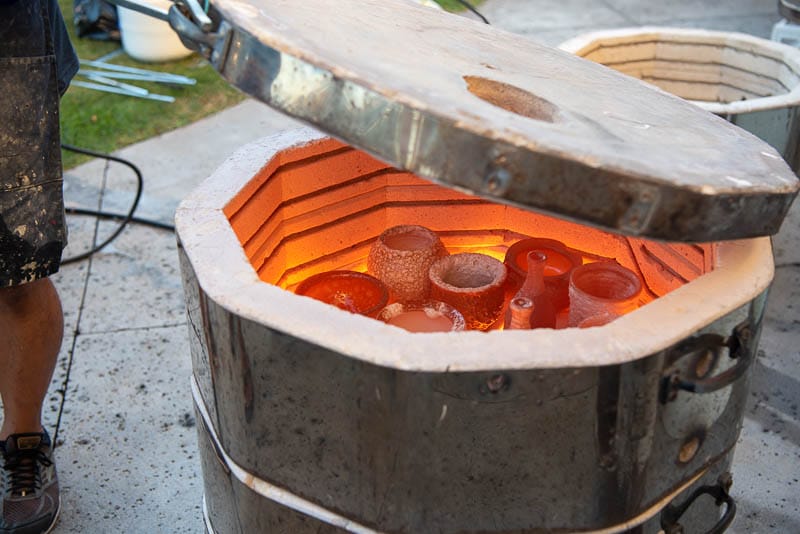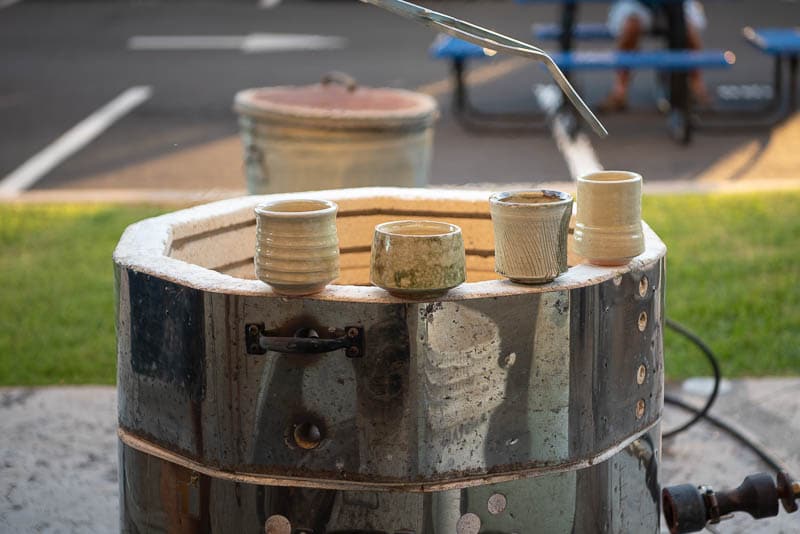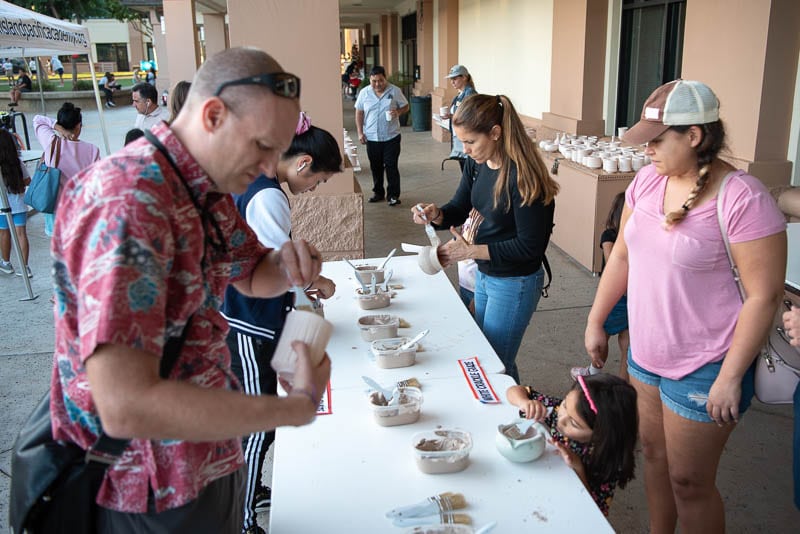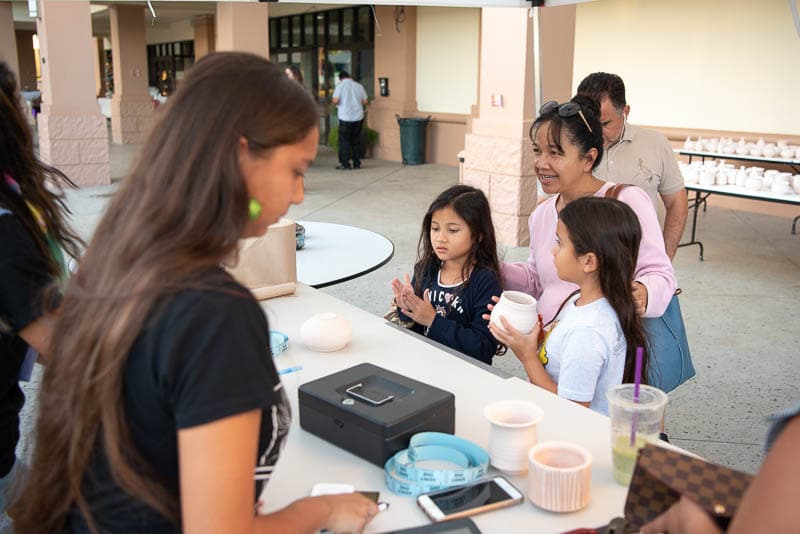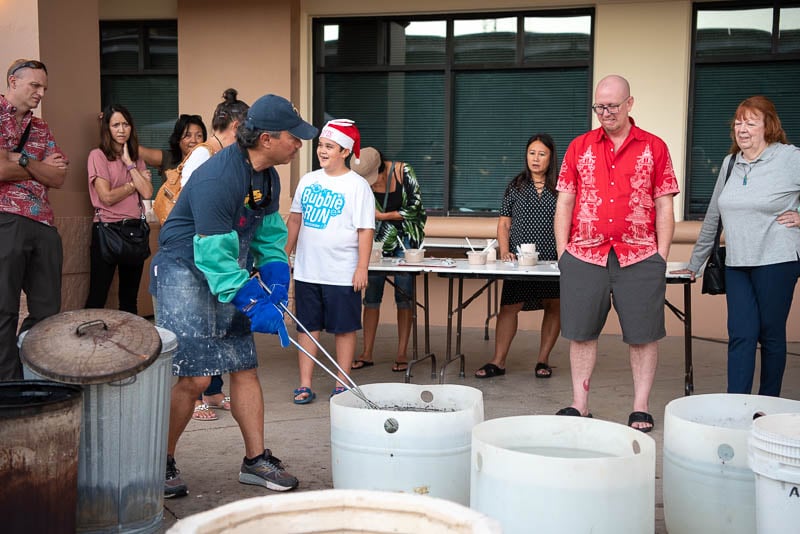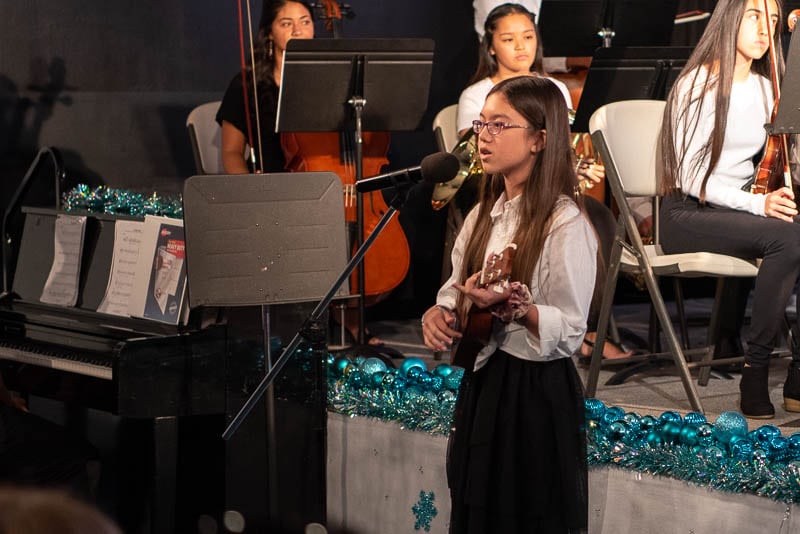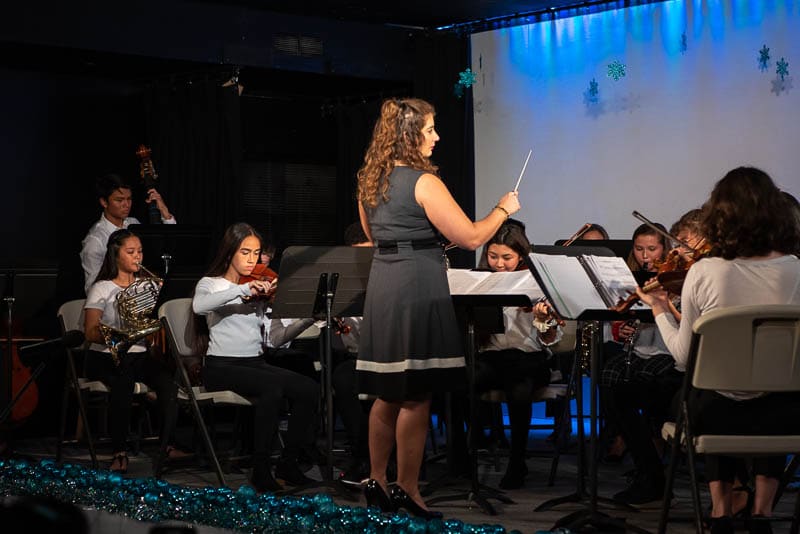 The post IPA Celebrates the Arts at Hoʻike Night appeared first on Island Pacific Academy.
by Tricia Murata at December 09, 2019 07:45 PM
by Unknown (noreply@blogger.com) at December 09, 2019 04:17 AM
December 06, 2019
Your invited to attend the Science Showcase on Wednesday, December 11th. Hope to see there!
December 04, 2019
Due to the Keiki Carnival, we are switching the dismissal dates on Wednesday, January 29th and Friday, January 31st. *******Dismissal time - Wednesday, January 29th, 2:15pm******* *******Dismissal time - Friday, January 31st, 1:25pm *******
Our school is participating in the Kaimuki Christmas Parade on Thursday, December 5th at 6:00pm. Please wear your Kahala t-shirt and holiday bling. Waivers must be signed to participate in the parade. We are number 38 in the parade. Look for our group in quadrant 3.
December 02, 2019
ISLAND PACIFIC ACADEMY's annual fundraising gala, Grand Expedition, celebrated the school's 15th anniversary this year with an amazing night of creativity, inspiration, and wonder. The successful event was attended by nearly 300 guests, with all proceeds supporting financial aid, Project Graduation, and technology upgrades for the school. The theme for the event was "Oh the Places We'll Go!" with the evening's program showcasing ISLAND PACIFIC ACADEMY's past, present, and future.
"It was a special evening honoring and recognizing the achievements, contributions, and efforts of our fabulous students – and the entire school community," shared Gerald Teramae, Head of School. "And it was a very appropriate theme for our 15th anniversary as we look forward to the bright future in store for IPA, made possible by the collaborative efforts of our school community."
The formal program opened with the school oli led by IPA kindergarten teacher, Momi Kuahiwinui, and a hula by Na Pua o Keko'olani halau, including IPA students Preeya Prasad '21 and Kristin Chun '22. The Board of Trustees president, Lance Wilhelm, offered a toast honoring IPA's past and future. It was especially fitting as Wilhelm has been part of ISLAND PACIFIC ACADEMY since its founding and his daughter, Kate '20, has attended IPA since she was in Junior Kindergarten. Dr. Dan and Judy White, founding Head of School and co-founders, joined the celebration as special guests of Teramae, and co-founder and developer Larry Caster shared the story of the school's development in a video interview by a Grade 3 student. Also present as guests that evening were Kerri and Stan Vincent – elementary office manager and secondary science teacher, respectively – who have been at the school since its inception.
Guests were entertained by the mistress of ceremonies, Lei Uʻi Kaholokula, who kept the program fun and lively. And Ruth Ann Babas, IPA founding faculty member and elementary music teacher, performed beautifully on a baby grand piano during the dinner hour. "It was an honor to play piano for our IPA Grand Expedition dinner. I am truly blessed to be able to say that I have been there since day one!" shared Babas.
Students from the Class of 2021 were present to welcome guests and assist them with online bidding in the silent auction. Guest favors included custom printed notecards featuring artwork by elementary, secondary, and alumni students, and each sponsor host received a beautiful, matted print of IPA student art and photographs. To show their appreciation for our guests, the elementary students created hand-written thank you notes, which were shared on all of the tables.
It truly was an evening celebrating and honoring the past, present, and future of ISLAND PACIFIC ACADEMY.
"We are incredibly humbled by the generosity and support from our sponsors and supporters each year, and this year was no different.  The room was filled with energy, excitement, and enthusiasm in support of our amazing students, and our school," shared Be-Jay Kodama, Director of Advancement.
The purpose of the event was to raise funds to support IPA's many programs, and with more than 50 silent auction items, the live auction, and the ever popular "wine pull", there were many opportunities for guests to give generously in support of the school.
Auctioneer Eric Schiff returned again this year for the live auction and, as usual, kept the bidding exciting and fast-paced. Class of 2021 students helped as bid spotters, waving brightly lit hot air balloon spotter's poles to grab the auctioneer's attention. Live auction items included the priceless IPA Reserved Parking Space, a San Francisco Giants package (with two owner's seats Giants tickets, hotel room, and airfare), and a four-night escape to the Mauna Lani. The most unique item up for bid was an Eva Makk giclee on canvas titled "Epic Journey," depicting the Polynesian sailing canoe, Hōkuleʻa. Renowed artist Eva Makk was there in person for the event, and during the champagne reception guests were invited to add their own brushstroke to the painting under Evaʻs guidance. The finished piece was a unique masterpiece "painted" by all of the guests at Grand Expedition.
ISLAND PACIFIC ACADEMY thanks all of our supporters, donors, attendees, and volunteers. Grand Expedition – Oh the Places Weʻll Go! was generously underwritten by many corporate sponsors, including the event's Presenting Sponsor, The Queen's Health Systems.
"We are very grateful for all the organizations, businesses, and individuals who graciously and generously sponsored this event and donated wonderful items for our auctions," said Teramae. "And, of course, a very special thank you to the many volunteers who give their time and talents every year to make this such a successful event."
Those sentiments were echoed by Kodama, "Mahalo to the many helping hands and volunteers who made the evening memorable,and those who helped to fulfill dreams for our students. We are truly grateful."
See you at the next Grand Expedition!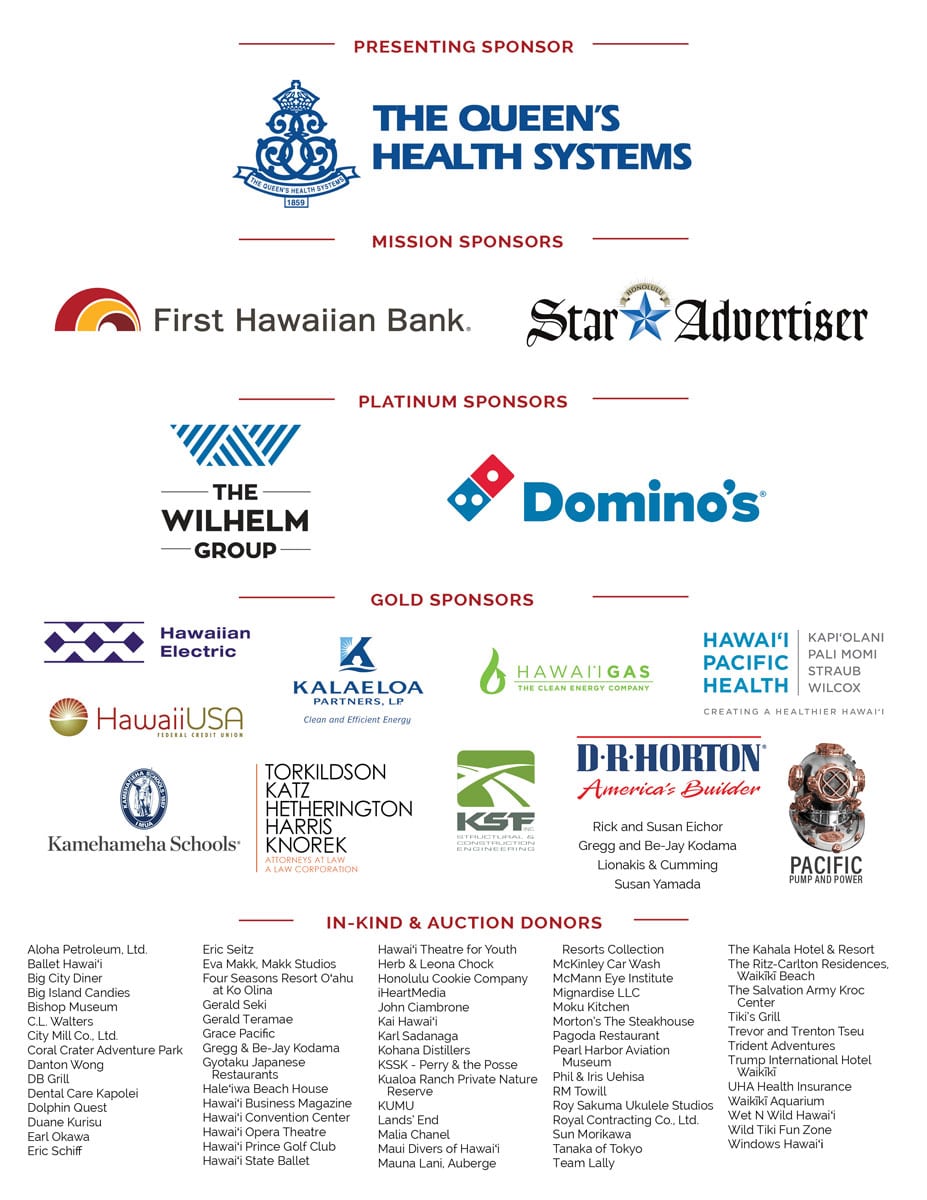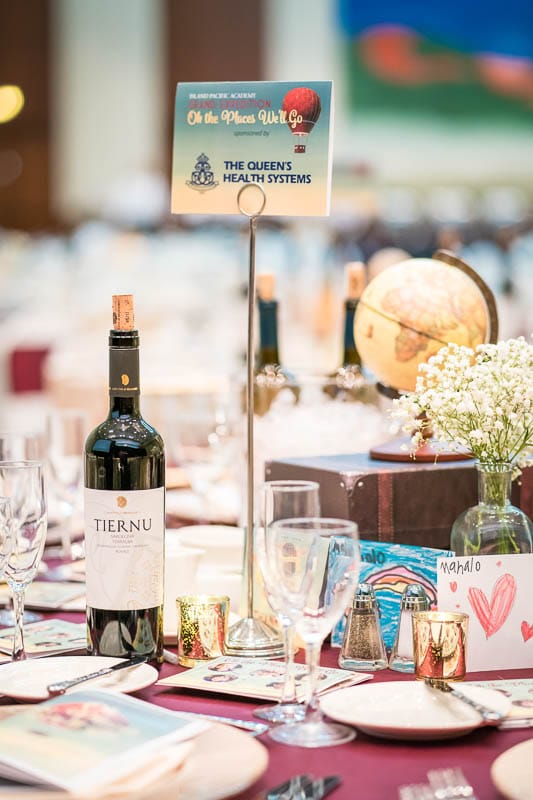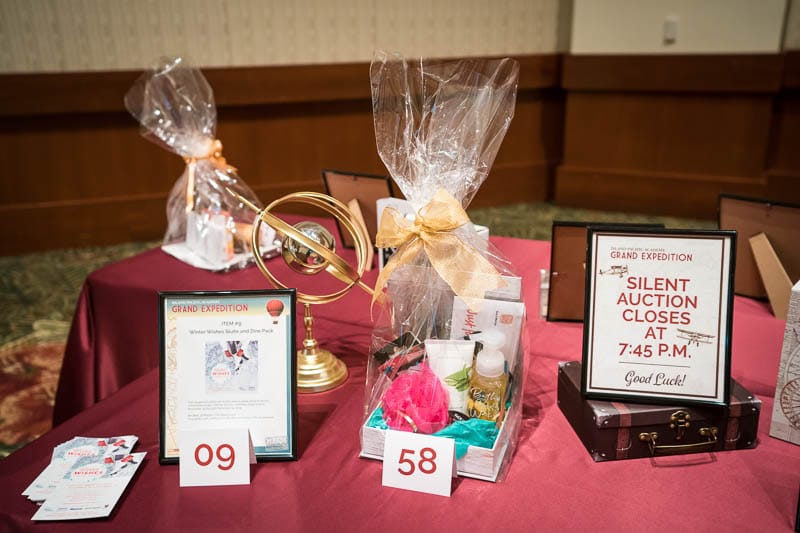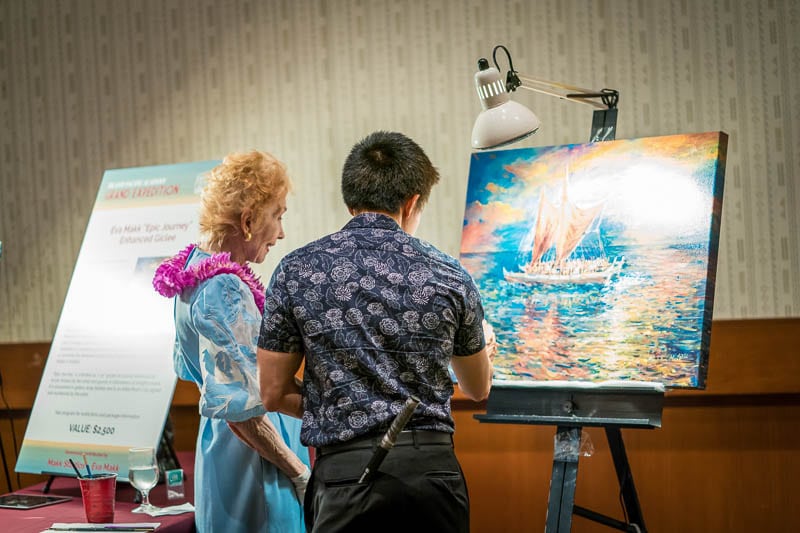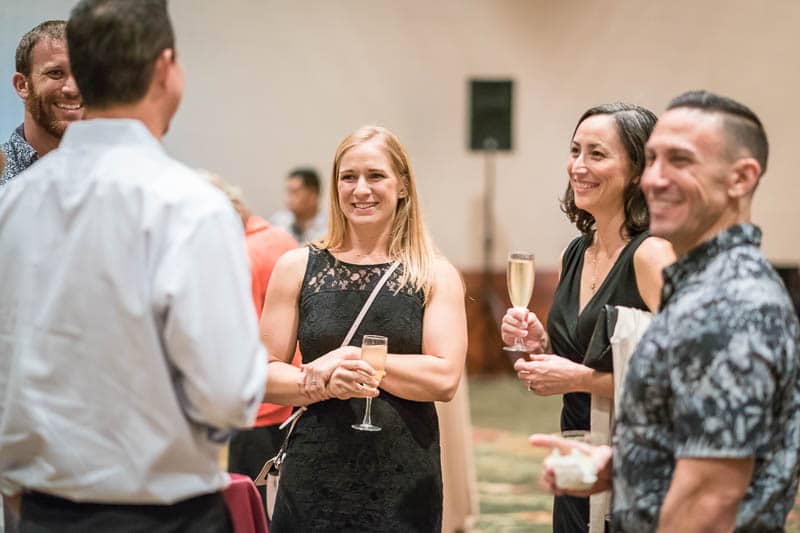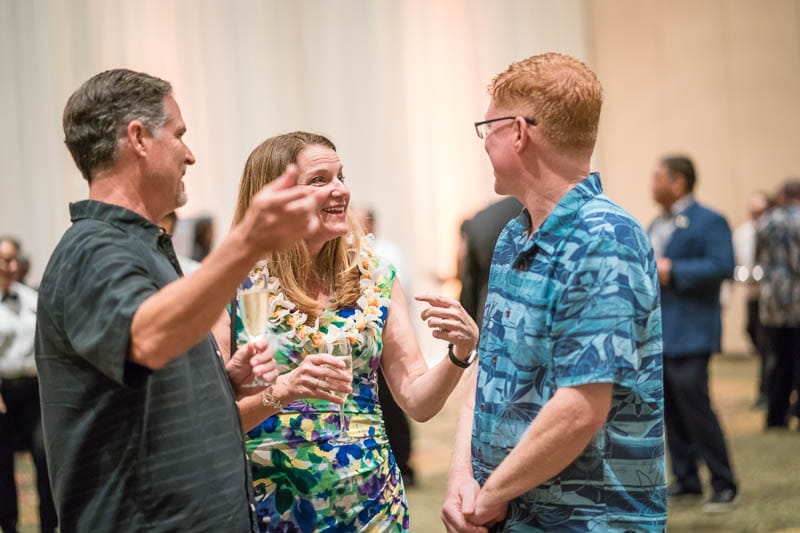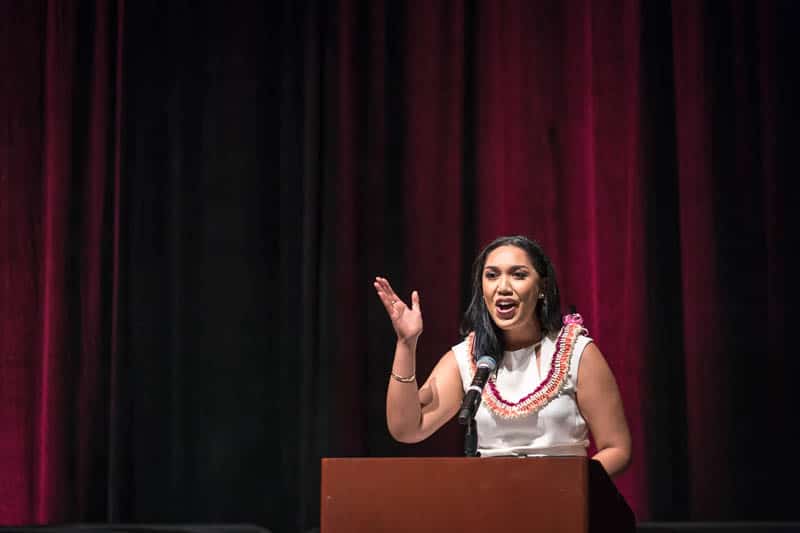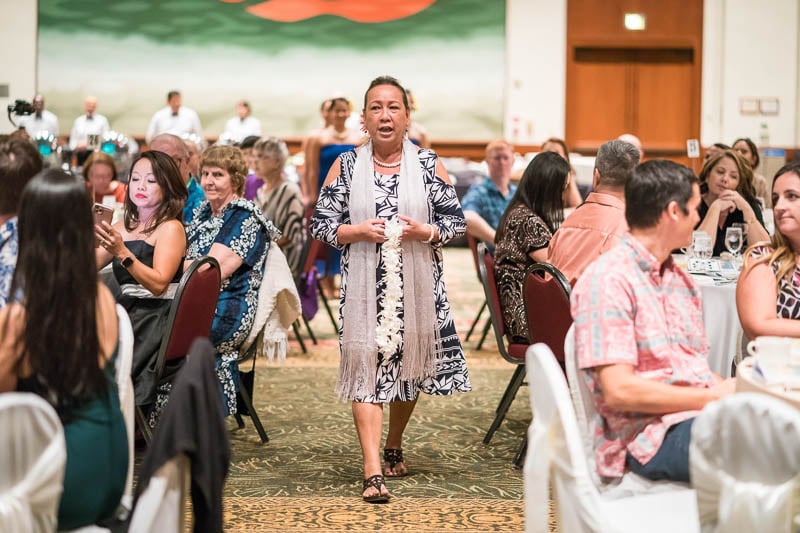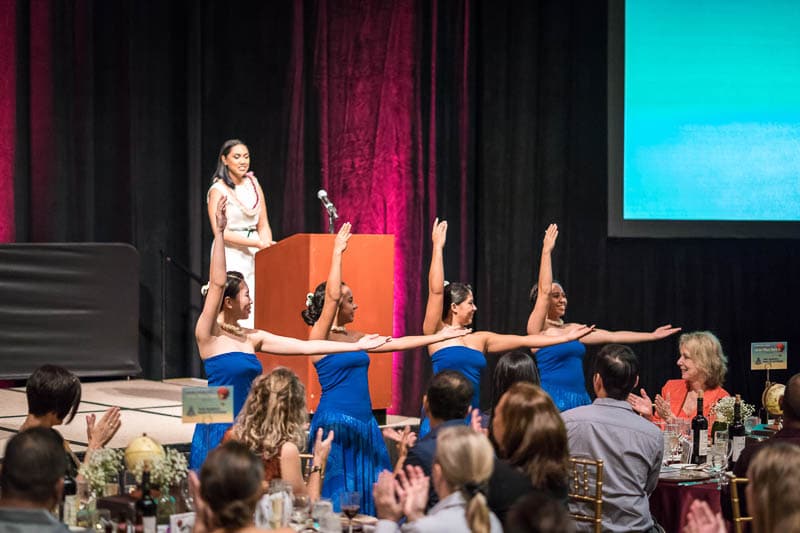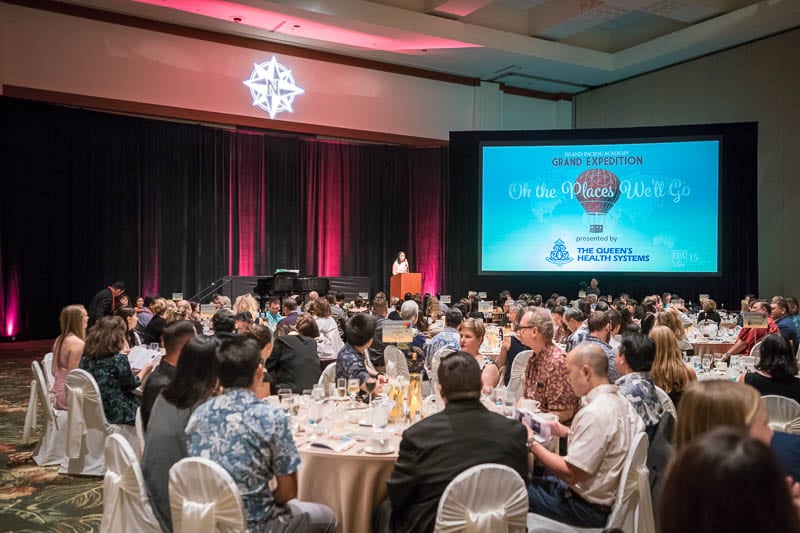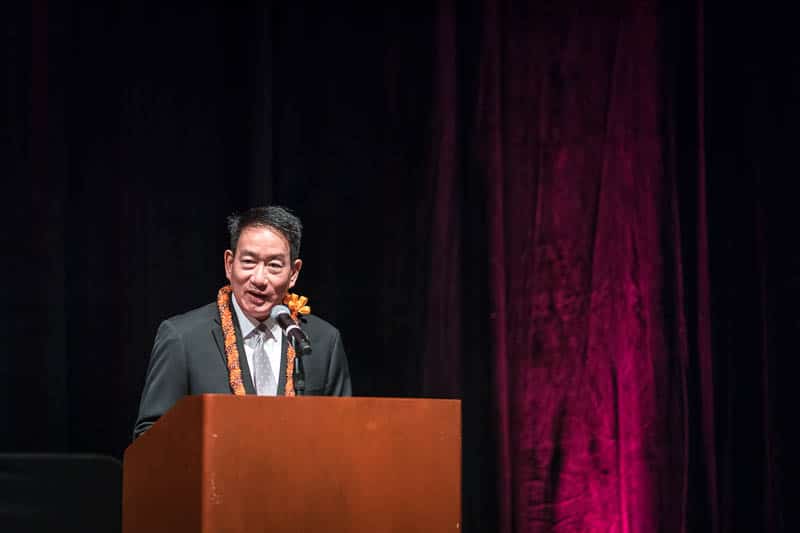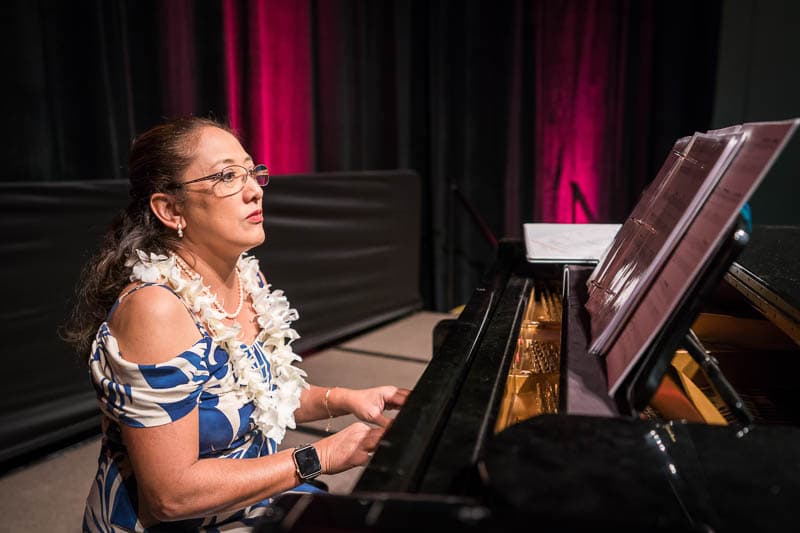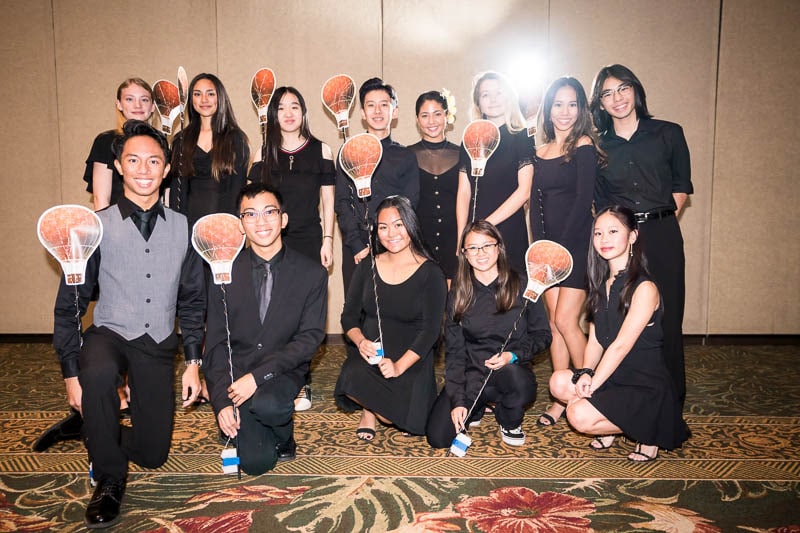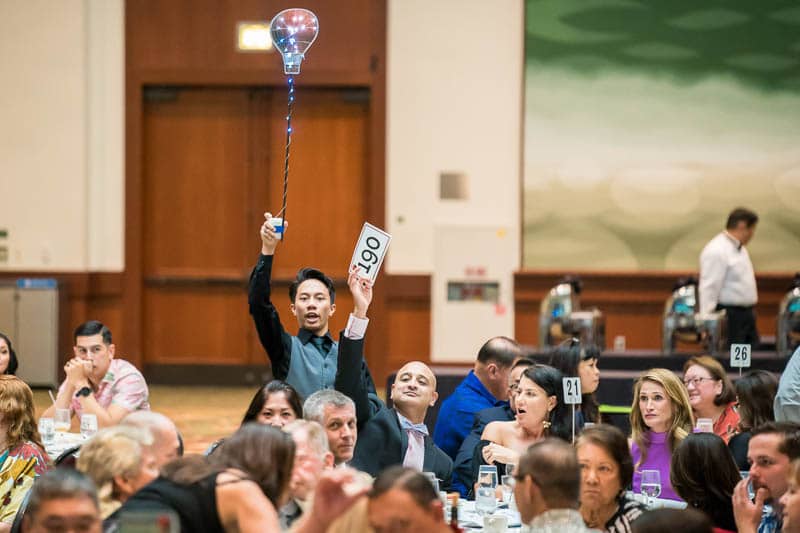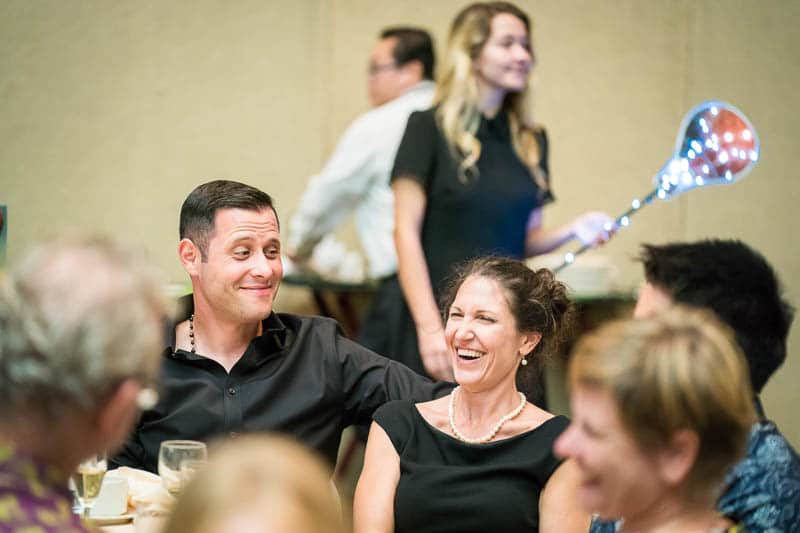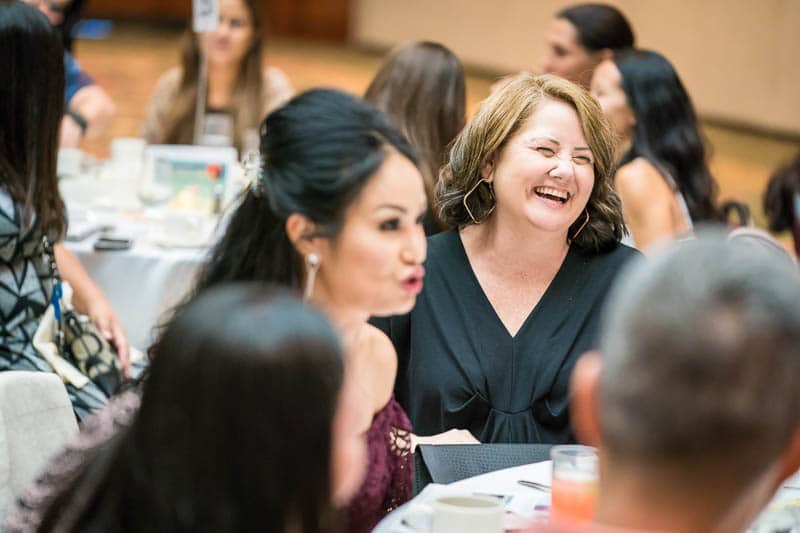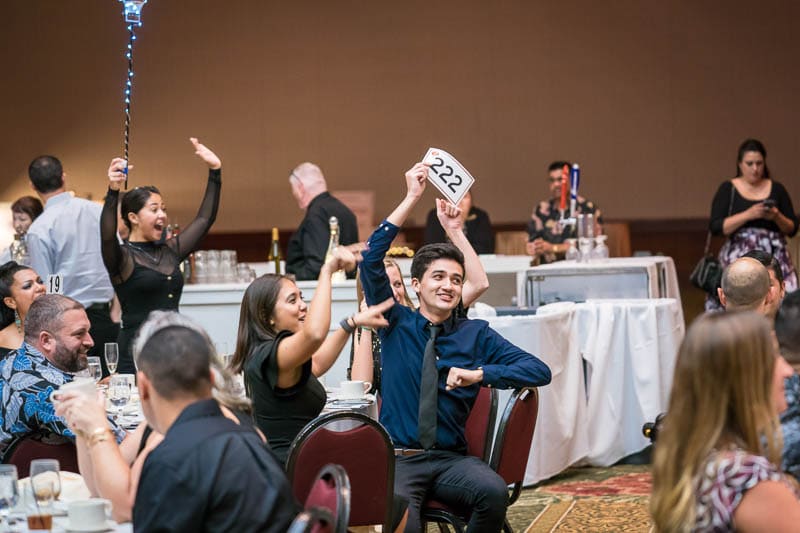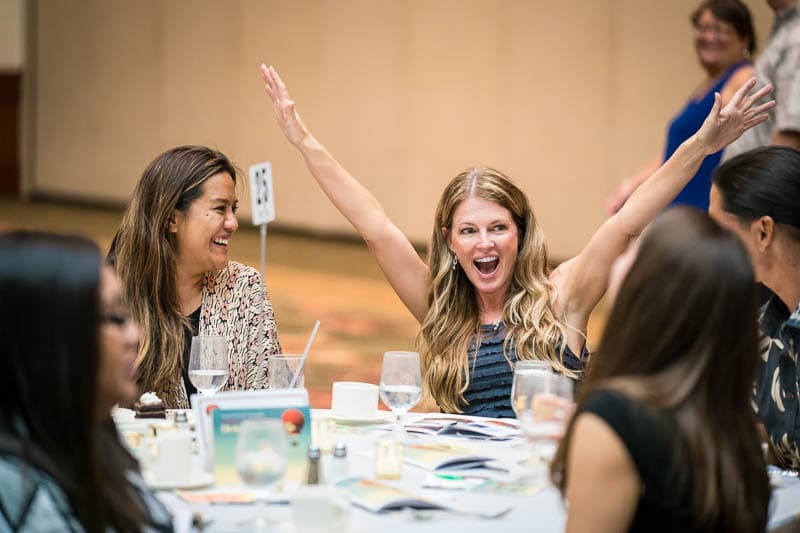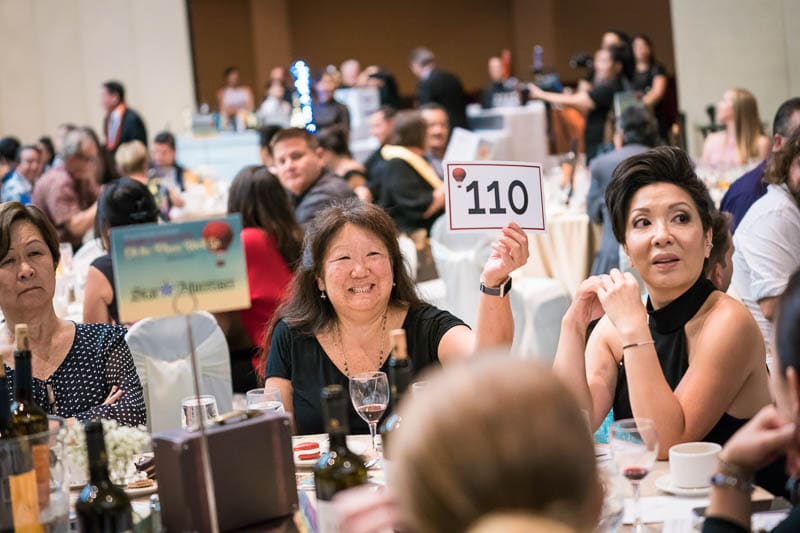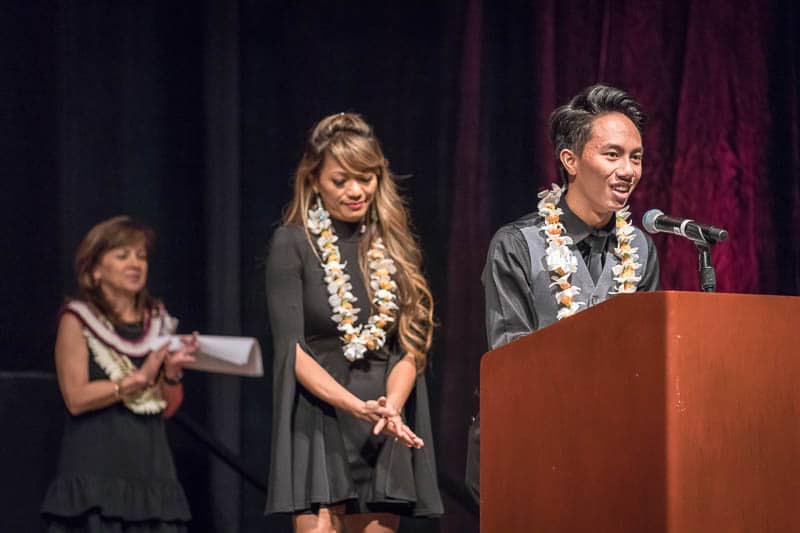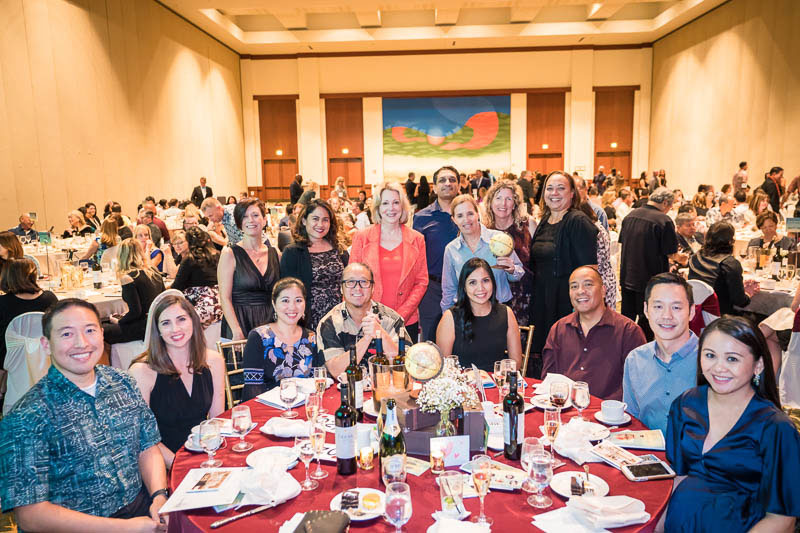 The post Grand Expedition – Oh the Places We'll Go! Highlights appeared first on Island Pacific Academy.
by Tricia Murata at December 02, 2019 05:53 PM
Our annual PFA Holiday Craft Fair is on Sunday, Dec. 15, 9 a.m.-2 p.m. during Lower School's Winter Wonderland Event! Join us as a vendor! Click here for an application.
November 25, 2019
by Evan Anderson at November 25, 2019 05:55 PM
November 22, 2019
Students at Le Jardin Academy have received grant funding for their robotics team as they work to enhance their skills in science and engineering. Bayer Fund, a philanthropic arm of Bayer, recently awarded a one-time $3,000 grant to FRC team #7548 to support their participation in the FIRST Robotics program.

Team 7548 will use support from their Bayer Fund grant to participate in FIRST Robotics educational programs and competitions. FIRST enables teams of students to compete with others in building, designing and programming their own robots to perform pre-assigned tasks, giving students a chance to get involved with real-world engineering.
November 18, 2019
November 15, 2019
by Evan Anderson at November 15, 2019 09:51 PM
The kindergarten students would like to thank 1st responders/military for helping our community. Please join us for breakfast on: November 26, 2019 from 9:00-10:00am RSVP by November 15, 2019 to llorusso@kes.k12.hi.us
November 12, 2019
The Turkey Trot is a school wide event that promotes healthy habits, brings our school community together, and celebrates all that is good a Kahala. Friends and family are welcome to cheer on the students running a course that winds around Kahala Community Park. If you are able to help, email Cynthia Beppu at cbeppu@kes.k12.hi.us
November 02, 2019
The following are important notices from Aiea High School. They pertain to Anti-Bullying, Traffic Safety around Aiea, Parent Newsletter, Dress Code Enforced by Faculty and Staff, and Infinite Campus Help Site.
October 31, 2019
BLUE, RED and GREEN Track Students
Mililani Middle School students who are currently in 8th grade on Blue, Red and Green tracks will have the opportunity to earn high school credit for Physical Education Lifetime Fitness (0.5 credit) at Mililani Middle School and Physical Education Lifetime Activities (0.5 credit) at Mililani High School.
Registration: Processed by Mililani Middle School
Registration Window:
Opens December 9 at 7:30 am (first come, first served)
Closes December 13 at 4:00 pm
Registration Process:
• In-person at Mililani Middle
• Registration forms will be available at the Mililani Middle School Administration Office and online at our school website on Friday, November 1.
• Registration will not be complete until payment is received (check or money order only)
The Semester 1 course will be held after school from 3:00 pm – 5:00 pm at Mililani Middle School. Session choice will be first come, first served. Students will be required to attend the after school PE sessions during respective track intersession.
The Semester 2 course will be taken at Mililani High School.
Semester 1/Session 1A - Lifetime Fitness - at Mililani Middle:
February 18, 2020 – April 3, 2020
3:00 pm – 5:00 pm
or
Semester 1/Session 1B - Lifetime Fitness - at Mililani Middle:
April 8, 2020 – May 22, 2020
3:00 pm – 5:00 pm
June 23, 2019 – July 9, 2019
8:00 am – 1:15 pm
Mililani Middle School students who are currently in 8th grade on Yellow track will have the opportunity to earn high school credit for both Physical Education Lifetime Fitness (0.5 credit) and Physical Education Lifetime Activities (0.5 credit) at Mililani High School.
Registration: Processed by Mililani High School
Registration Begins: February 1, 2020
Registration Process:
• In-person - Registration forms available at the Mililani High School Administration Office
• Registration will not be complete until payment is received (check or money order only)
by Unknown (noreply@blogger.com) at October 31, 2019 10:32 AM
October 29, 2019
Don't forget to bring your costume to school.
October 22, 2019
Wear your costume! All kids must be accompanied by an adult for the duration of the event. Dinner available for purchase from Olay's Thai Express. Please no outside food. Join us for a night of food and fun!
October 21, 2019
We are pleased to announce and welcome Courtney Chow, our new Director of Advancement. Courtney has a B.A. in Biological Anthropology from the University of California at San Diego and minors in Biology and Dance. Courtney is currently employed at Honolulu Biennial Foundation (HBF) as Operations Director. Prior to HBF, she was employed at the Bernice Pauahi Bishop Museum for 11 years where she rose to Vice President for Institutional Advancement.
Courtney is an experienced nonprofit fundraising executive with expertise in organizational and project management, budget management, capital campaigns, strategic planning, board management, organizational change, grant-writing, program development, special events, communications, marketing, and public and donor relations. Courtney has an open door policy and is eager to meet our community - please stop by and say Aloha!
October 18, 2019
October 17, 2019
Voyager's Local Governing Board meeting has been rescheduled to Thursday, October 24th at 5:00pm.
by Evan Anderson at October 17, 2019 07:39 PM
October 10, 2019
Math is even more fun with friends! ISLAND PACIFIC ACADEMY's elementary and middle school students spent this afternoon, Thursday October 10, participating in various problem-solving activities in the "Math Collaborative Activity" event. Groups of students from Grades 4-7 worked together solving fun and challenging math problems from different topics like Cryptology, Discovering Pi, Beauty and the Golden Ratio, and Real Life Set Problems. Students rotated with their groups to the different activities over the course of the two-hour event.
This annual event is organized by teachers from both divisions with the goal of easing the transition for students between Elementary and Secondary. "We wanted to build a relationship between Secondary and Elementary to make sure there was a flow in the math curriculum in terms of the scope and sequence," explains Jorge Ochoa, Secondary math teacher and one of the organizers. "We thought the best way to do that was to start working together, and we realized that creating a math collaborative activity between these four grade levels would be a great way to do that."
The event also involves students from the Upper school, with juniors and seniors from Mu Alpha Theta, the math honor society, teaching and leading the younger students in the activities. Ryan Fitzgerald '21 and Kate Wilhelm '20 led the Transformations session for the afternoon. "The last session we did was called Transformation Golf, where we taught the students how to do transformations and they got to use them to play golf on their iPads. And they seemed to have a lot of fun with it," shares Fitzgerald.
"I want these kids to learn that math can be fun," explains Wilhelm. "Sometimes we get caught up thinking math is so boring, or hard or difficult, but it doesn't have to be and if you have the right teacher and tools it can be super fun."
Getting students excited about math was definitely one of the goals of the event. "We designed the activities the way we did because we wanted the students to be excited about math and to know that math is part of the world they live in," said Ochoa. "These activities are different ways for them to see math in action."
Senior David Pavlicek '20 agrees. "The most exciting thing is that some of the students are really excited to be doing these activities, which is good to see that there is an enthusiasm for learning about math."
One of the activities, Real Life Set Problems, dealt with Venn diagrams and was illustrative of math in the real world. Students learned what the terms union and intersection and complement mean by using hula hoops to group students into sets, for example students with brothers, students with sisters, students with both, or students with neither.
"Basically what the activity demonstrated is that there are ways people are similar and there are ways they are different," Ochoa explained. "And that's how we build relationships with people – we make connections with others by learning what we have in common and how we're different. That's basically a Venn diagram."
The students will get together for another afternoon of collaborative math activities in the Spring when they celebrate Pi Day.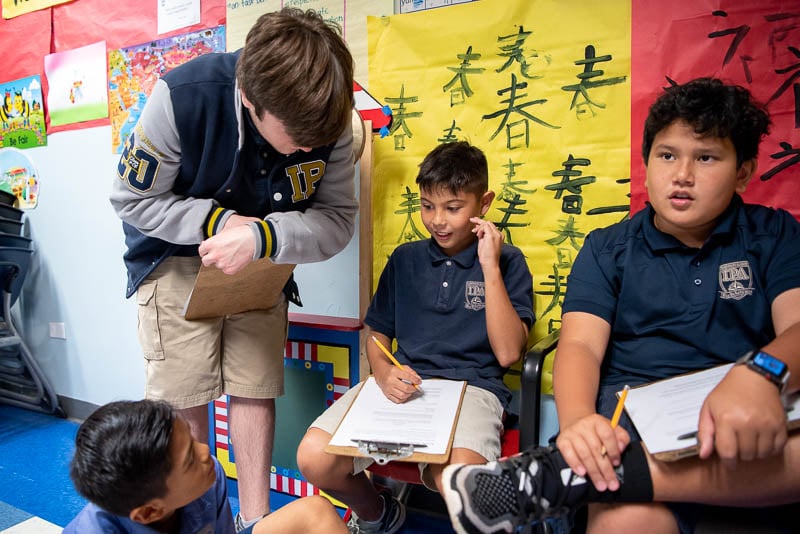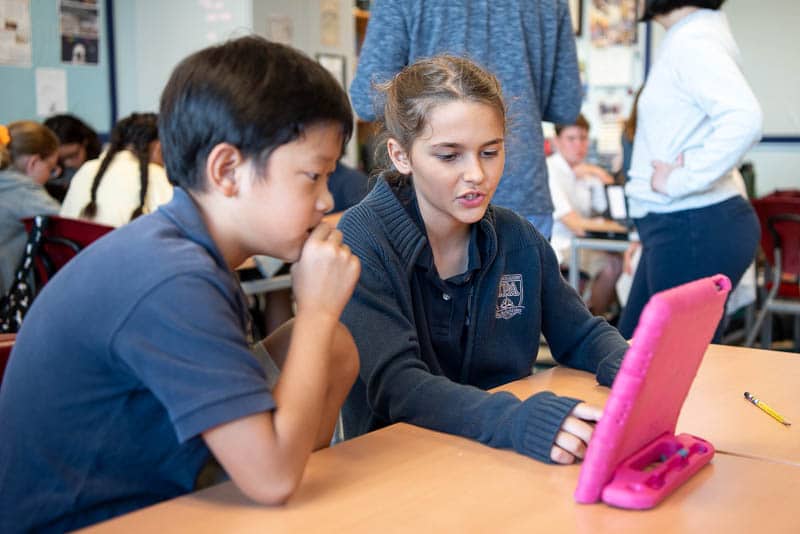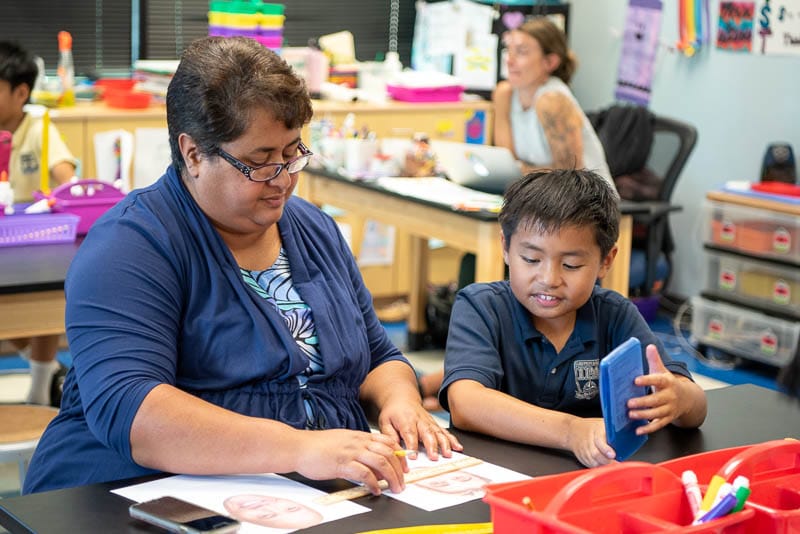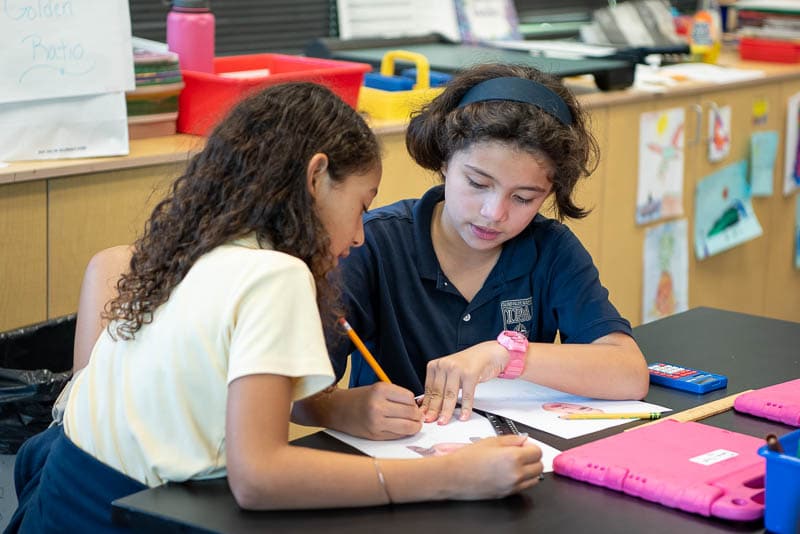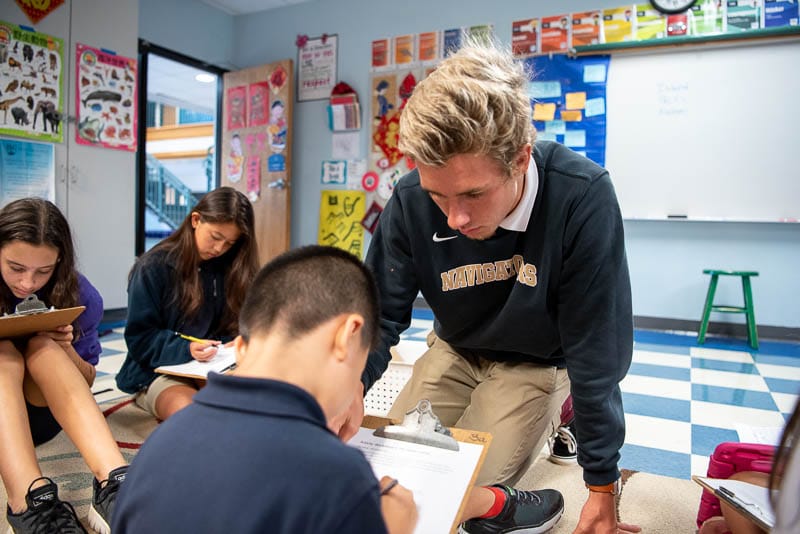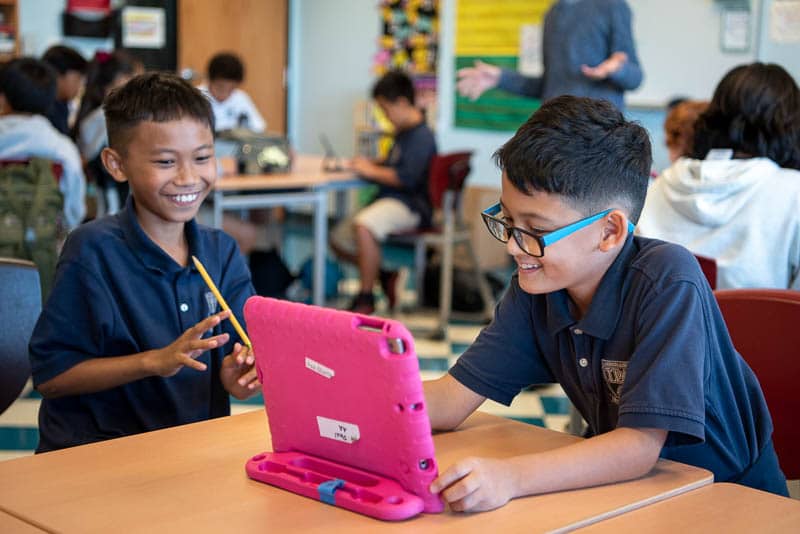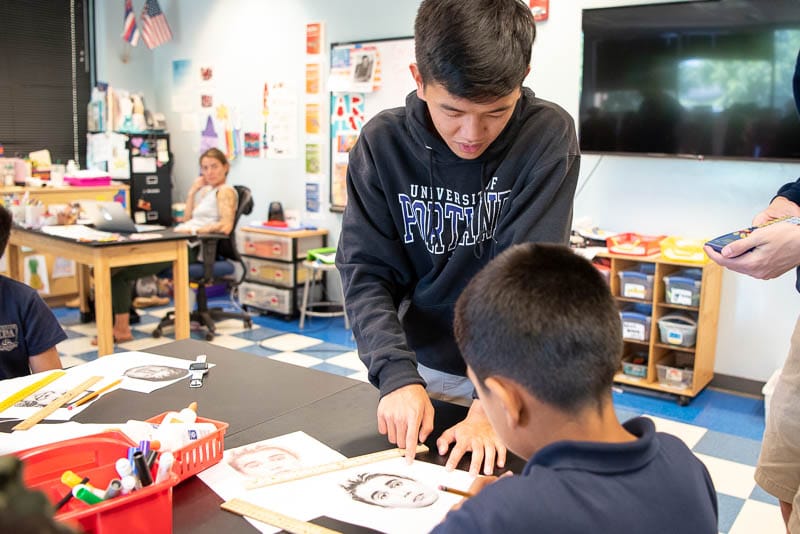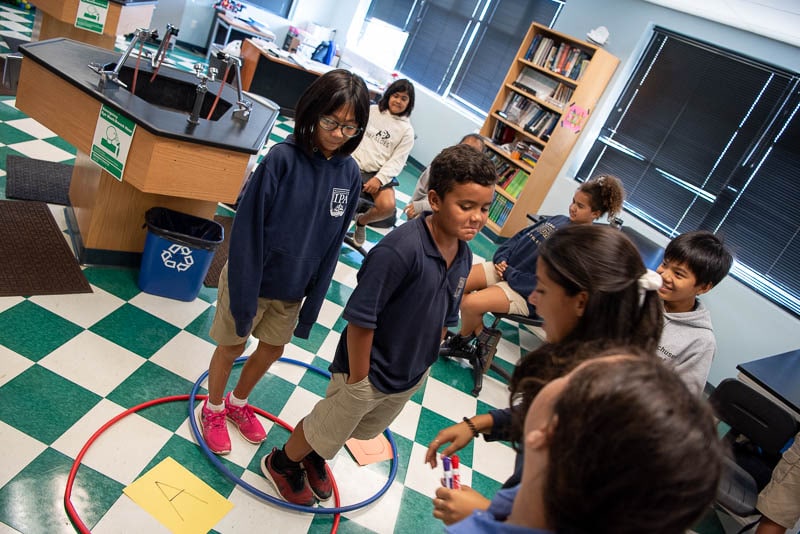 The post Collaboration Makes Math Fun appeared first on Island Pacific Academy.
by Tricia Murata at October 10, 2019 10:33 PM
September 30, 2019
by Evan Anderson at September 30, 2019 10:20 PM
LJA is hosting the Global Citizen Diploma (GCD) Consortium on Oct. 3 and 4. Delegates from around the world will meet with our school leaders to further develop a shared vision of global citizenship and the role each school can play in advancing the values of sustained community engagement, global understanding, and effective intercultural communication. School leaders from Nanjing International School, Hong Kong Academy, American School of Bombay, NIST International School, and Yokohama International School will be in attendance. Please join us in welcoming them to our campus.
We are pleased to announce that Jennifer Meehan was recently elected to the LJA Board of Trustees. Jennifer brings over two decades of international development experience - including alleviating poverty and ending modern slavery - across Asia and parts of Africa. She has also served on numerous nonprofit and social enterprise Boards.
September 28, 2019
Aloha Faculty, Staff and Students. SAVE THE DATE! Friday, November 8, Radford High School will be hosting our Inaugural Veteran's Day Assembly to honor Veterans in the local area. We are inviting you to Take a Veteran to School! If you know a Veteran (Mom, Dad, Aunty, Uncle, etc) invite them to attend the assembly on Friday, 8 November from 9:30 to 10:30 AM in the gym. You MUST R.S.V.P. your veteran on the Radford High school website, RadfordHS.org. Scroll down on the home page and click on "Take a Veteran to school day" headline. Next, click on "Register my Veteran" and fill out the registration form. Be prepared to upload a photo of your veteran (in or out of uniform is fine). The first 75 veterans to be registered will be invited to the assembly. Don't miss this opportunity to show your veteran how much you appreciate what they have done for our great country! Don't wait, register your veteran today! GO RAMS!! (Email RadfordVetDay2019@gmail.com with questions.) Have a veteran in your life who cannot attend? Email a photo of your veteran to RadfordVetDay2019@gmail.com with your name, Veteran's name and branch of service, years they served and where and we will include them in our slide show.
September 26, 2019
We had a very successful Navigator Credit Union opening today for our 2019-2020 school year! We have added new branch positions and defined original ones for the Grade 4 students (Branch Specialist, Greeter, Marketing Specialist, Service Specialist) with corresponding lanyards created by HawaiiUSA Federal Credit Union staff and sporting our new Navigator Credit Union logo for this year.
IPAPA officer and parent, Marised Gillette (Paul '28, JR '17), graciously recreated the winning Grade 5 No Bake Challenge PBL recipe, and it was the featured menu item sold along with our regular libations of hot cocoa and coffee. Debbie Yoshino, Computer Science teacher, opened the Finance Club to Grade 9 students this year and they are taking the reins in mentoring the new Grade 6 students on Navigator Café processes and customer service.
In addition to the non-stop bank transactions, the café line was out the door and down the hall until we cut the students off at the usual 7:55 AM pre-class time. The Grade 4 students were able to open three new accounts for two 4th graders and one Kindergartener, and completed deposits. As it is every week, we had two staff members from HawaiiUSA FCU on hand to provide support, and they have been instrumental to our on-going process and just tremendous partners. The HawaiiUSA FCU staff came to IPA last week to hold training workshops with our Grade 4 students in bank transactions and customer service skills. In addition to all of the student learning, what is great about our "coffee shop" model is that it allows for parents to engage with their kids because we provide a place for both adults and kids to relax and have a warm beverage and a quick morning bite while doing a little banking together.
Contributed by Katherine Jones, Elementary Sustainability and Innovation Coordinator
The post Navigator Credit Union Opens for the New School Year appeared first on Island Pacific Academy.
by Tricia Murata at September 26, 2019 08:35 PM
Mark your calendars! The Scholastic Book Fair will be held during the week of October 21th -25th in the library Click on the Scholastic Book Fair title -link to find out more about: the hours, volunteering, shopping online, ewallet, and the Book Fair App Look forward to seeing all of you at the Scholastic Book Fair.
Ohana Night - Friday, September 27th Featuring student entertainment, special presentations from some of our school programs, and our much anticipated Faculty and Staff Bake Sale. Faculty Bake Sale opens at 5:30pm, Dinner served at 5:45pm. Hope to see you there!
September 23, 2019
Dear Parents: Voyager afterschool clubs and Kama'aina Kids have been cancelled due to a power outage. Please pick up your keiki via our usual home line procedure as soon as possible. Thank you!
Mr. Anderson and School Staff
by Evan Anderson at September 23, 2019 08:00 PM
September 18, 2019
If you want your child released early on any day, please send them a short note and let them bring it to the office. They will be given a pass which shall be shown to the teacher at the time they need to leave. Students then will be allowed to sign themselves out and will be ready for Pick Up or Drive Out at the Parking Lot. This will minimize disruption of valuable classroom instruction and reduce incidents resulting to delayed student releases. Mahalo for your cooperation.
September 16, 2019
Student leaders of this year's Blood Bank campaign accepted the award for highest percentage of student participation for a school blood drive in the State of Hawaii! This is the second year in a row that LJA received this award! We have two blood drives scheduled this year, the first is on Nov. 14.
September 15, 2019
ISLAND PACIFIC ACADEMY celebrated its 15th year with a special Founders' Day ceremony on September 13, 2019. The school's three founders – Dr. Dan White, Judy White, and Larry Caster – and members from the Board of Trustees, attended the all-school event held on campus.
The ceremony included songs by the students and performances by the IPA Ukulele Club. Guests heard messages from Gerald Teramae, Head of School, and Dr. White about the history and future of IPA. The three founders were presented with a framed portrait, which will be on permanent display in the lobby of the Administrative office. All the students enjoyed birthday cupcakes frosted in blue with gold and silver sprinkles – our IPA colors!
As part of our 15 year celebration, we invited three Grade 4 students to sit down to talk with IPA's founders about the school, bringing together our past and our future. Watch the short videos from Kyler '28 and Dr. Dan White, Oliver '28 and Larry Caster, and Winleth '28 and Judy White below.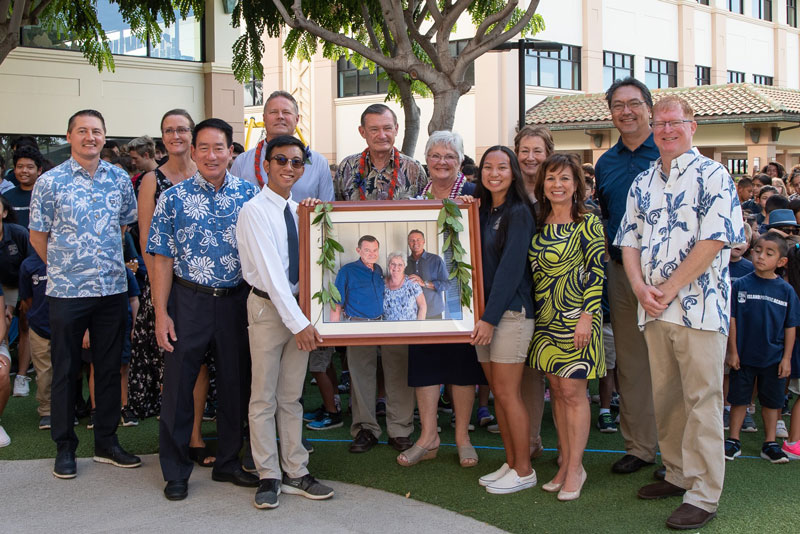 The post IPA Celebrates its 15th Year appeared first on Island Pacific Academy.
by Tricia Murata at September 15, 2019 03:48 PM
September 10, 2019
2019 PSAT/NMSQT will be administered on Oct. 16, 2019. All 9th and 10th grade students will be taking the test at no cost. Any 11th grader interested in taking the test must sign up with either Mrs. Aquino or Mrs. Epenesa in the counseling center. Cost is $17.00, Sign up until Sept 16, 2019. If you have any questions please see Mrs. Aquino in the Counseling Center.
September 09, 2019
All juniors are invited to register for the upcoming PSAT! Taking the PSAT will help you prepare for the college application process. It may also qualify you for scholarship money for college. PSAT test day will be on Wednesday, October 16 and the registration deadline is Monday, September 16. The cost is $17 or FREE if you have free/reduced lunch. Register today in the Counseling Center! Questions? Stop by the Counseling Center!
If your child is taking an Advanced Placement course this school year, College Board has changed the deadline for AP Exam payments this school year. All AP payments received on or before October 1, 2019 will receive a 50% discount. Anyone paying after October 1, 2019 will incur the full (100%) exam cost. 2019-20 AP Exam Fee Schedule: Payment on or before October 1, 2019: $47 (per exam), AP Seminar $71 Payment after October 1, 2019: $94 (per exam), AP Seminar $142 If you have any questions concerning payments please contact the Counseling Department at Radford High School.
Le Jardin Academy is one of the sponsors of Hawaii News Now's Get Akamai Week. LJA's segment aired on Hawaii News Now yesterday morning and features Grade 1 teacher Kate Beres and Head of School Earl Kim. Click here to watch the video!
The Green Team is a consortium of students, parents, faculty, and staff dedicated to helping our school become more environmentally friendly. Last spring, the Green Team held LJA's first waste audit. They collected all matters of waste tossed into the school's bins over a 24-hour period, and then pulled out, sorted, cataloged, counted, and weighed every item. With support from the Kokua Hawaii Foundation, we now have a clearer understanding of the types and quantities of waste we produce. For example, in just one day LJA disposed of almost 139 pounds of food scraps, over 50 pounds of plastics, and 35 pounds of HI-5 recyclables. It is our goal to make measurable reductions. If you are interested in getting involved, please contact one of the Green Team's co-coordinators, seniors Aidan Anderson or Aiden Spagnoli.
On Sunday, we celebrated the winners of our 2018-19 Annual Fund parent participation challenge - Class of 2029 and 2030. The families enjoyed a pancake breakfast served by our Board of Trustees and Head of School. Mahalo to our parent participation chair Shauna Hirota and committee members!
Welcoming and casual, the Kalapawai Market and its sister Cafe located in the heart of Kailua town, embody the values and ethos of its founder, Mr. Don Dymond. In his memory, the Dymond family and many generous donors have established the Don Dymond Scholarship Fund at LJA. In honor of Don, his work ethic, and his commitment to mentor young people in the workplace, this $1,000 award is to acknowledge a LJA student's actual good work, both in school and in the workplace. The recipient of this year's Don Dymond Scholarship award is Eva Ramm '20.
September 05, 2019
The Hawaii State Department of Education (HIDOE) will be sending a U.S. Department of Education Federal Survey Card home with Hawaii's public school students for parents to complete beginning Thursday, September 5.
The Impact Aid Program surveys allow HIDOE to qualify for a partial reimbursement for educating federally connected students, such as children whose parents work or live on federal property. The program was created to assist school districts that lose tax revenues (e.g. income, sales and property taxes) due to a federal presence. Funds go to local school districts, just like local property taxes, and can be used to hire teachers, purchase textbooks and computers, pay for utilities and more. Parents are strongly urged to complete the surveys and return them to their schools as soon as possible.
Every public school has a 100-percent return rate goal and asks that parents complete and return the federal survey this week.
Due Dates:
September 18 - Blue/Green/Red Track
October 11 - Yellow Track
Address list for military installations or properties:
by Unknown (noreply@blogger.com) at September 05, 2019 05:36 AM
September 04, 2019
Beginning October 16, 2019, parents/guardians can log into the Infinite Campus Portal and complete the Impact Aid survey. This survey is very important to the school. We appreciate your support in this matter. Click on the heading to read the entire Parent Notification letter.
September 03, 2019
ISLAND PACIFIC ACADEMY is proud to congratulate Katherine Jones, Elementary Sustainability & Innovation Coordinator, who was honored earlier this month with a Poʻokela Award in the "Dance Choreographer/Movement Stage Combat" category for her work in "The Rocky Horror Show" at Manoa Valley Theatre. The Poʻokela Awards, given out by the Hawaiʻi State Theatre Council, recognize excellence in local theatre in 23 theatre arts categories, including directing, performing, design, choreography, and technical theatre. This was Jones' eighth Poʻokela, with her first award in 2008 also, coincidentally, for "The Rocky Horror Show."
Jones has years of professional experience in dance and choreography, having choreographed more than 60 musicals with Hawai'i high schools, universities, community theatres, and gala events. She has also had her work showcased at the Disney parks, in commercials in Japan, and in movies and local television. Although her teaching and family take up most of her time, she still makes time for one or two productions a year in community theatre. Her focus now is more on devoting the time she has to projects with non-profits, such as the Performing Arts Center of Kapolei and Camp Anuenue, where she can give back to the community.
Jones' creativity and experience are invaluable in her position as Elementary's Sustainability & Innovation Coordinator. She works closely with the grade level teachers, helping to coordinate student activities and efforts for their project-based learning (PBL). She assists students with choreography and costumes for the Grade 5 American Revolution Museum Experience; teaches Grade 3 students on-air presentation skills for their on-camera weather reports; and teaches the Grade 4 students how to prepare for job interviews during their class luau project, which integrates units on Hawaiʻi/Hawaiian Culture and Business/Finance. She also helps the classes with preparations for their Monday Assembly performances. In addition she leads the gardening curriculum for the Elementary division.
This summer, Jones taught the "Creative Art & Musical Theatre Skills" and "Musical Theatre Skills: Sing, Say, Dance, Play and More" classes during IPA's Experience & Explore Summer Program.
"Teaching the classes here was great! The kids here are so talented and have so much passion," said Jones. "I've always been joyful about teaching musical theatre. I don't necessarily have to be doing musical theatre myself in order to get joy out of it."
Students learned about puppetry, mask making, improvisation, music reading, dance, and choreography. Jones explains that through all the fun activities, the students also develop many important skills, such as self-confidence, public speaking, and self-awareness. She also points out studies that show a correlation between the dynamics of dance/music and mathematics/computational thinking.
Jones knows how important it is to expose children to the performing arts from a young age. "That's something we do very well here at IPA," she shared. "We have the resources and we recognize the value in it. It's so important to their overall education because performing arts ultimately goes back to language arts, and our history, and mathematics."
Congratulations, Katherine!
The post Elementary Faculty Katherine Jones Honored with Poʻokela Award appeared first on Island Pacific Academy.