September 09, 2019
Le Jardin Academy is one of the sponsors of Hawaii News Now's Get Akamai Week. LJA's segment aired on Hawaii News Now yesterday morning and features Grade 1 teacher Kate Beres and Head of School Earl Kim. Click here to watch the video!
The Green Team is a consortium of students, parents, faculty, and staff dedicated to helping our school become more environmentally friendly. Last spring, the Green Team held LJA's first waste audit. They collected all matters of waste tossed into the school's bins over a 24-hour period, and then pulled out, sorted, cataloged, counted, and weighed every item. With support from the Kokua Hawaii Foundation, we now have a clearer understanding of the types and quantities of waste we produce. For example, in just one day LJA disposed of almost 139 pounds of food scraps, over 50 pounds of plastics, and 35 pounds of HI-5 recyclables. It is our goal to make measurable reductions. If you are interested in getting involved, please contact one of the Green Team's co-coordinators, seniors Aidan Anderson or Aiden Spagnoli.
On Sunday, we celebrated the winners of our 2018-19 Annual Fund parent participation challenge - Class of 2029 and 2030. The families enjoyed a pancake breakfast served by our Board of Trustees and Head of School. Mahalo to our parent participation chair Shauna Hirota and committee members!
Welcoming and casual, the Kalapawai Market and its sister Cafe located in the heart of Kailua town, embody the values and ethos of its founder, Mr. Don Dymond. In his memory, the Dymond family and many generous donors have established the Don Dymond Scholarship Fund at LJA. In honor of Don, his work ethic, and his commitment to mentor young people in the workplace, this $1,000 award is to acknowledge a LJA student's actual good work, both in school and in the workplace. The recipient of this year's Don Dymond Scholarship award is Eva Ramm '20.
September 05, 2019
The Hawaii State Department of Education (HIDOE) will be sending a U.S. Department of Education Federal Survey Card home with Hawaii's public school students for parents to complete beginning Thursday, September 5.
The Impact Aid Program surveys allow HIDOE to qualify for a partial reimbursement for educating federally connected students, such as children whose parents work or live on federal property. The program was created to assist school districts that lose tax revenues (e.g. income, sales and property taxes) due to a federal presence. Funds go to local school districts, just like local property taxes, and can be used to hire teachers, purchase textbooks and computers, pay for utilities and more. Parents are strongly urged to complete the surveys and return them to their schools as soon as possible.
Every public school has a 100-percent return rate goal and asks that parents complete and return the federal survey this week.
Due Dates:
September 18 - Blue/Green/Red Track
October 11 - Yellow Track
Address list for military installations or properties:
by Unknown (noreply@blogger.com) at September 05, 2019 05:36 AM
September 03, 2019
ISLAND PACIFIC ACADEMY is proud to congratulate Katherine Jones, Elementary Sustainability & Innovation Coordinator, who was honored earlier this month with a Poʻokela Award in the "Dance Choreographer/Movement Stage Combat" category for her work in "The Rocky Horror Show" at Manoa Valley Theatre. The Poʻokela Awards, given out by the Hawaiʻi State Theatre Council, recognize excellence in local theatre in 23 theatre arts categories, including directing, performing, design, choreography, and technical theatre. This was Jones' eighth Poʻokela, with her first award in 2008 also, coincidentally, for "The Rocky Horror Show."
Jones has years of professional experience in dance and choreography, having choreographed more than 60 musicals with Hawai'i high schools, universities, community theatres, and gala events. She has also had her work showcased at the Disney parks, in commercials in Japan, and in movies and local television. Although her teaching and family take up most of her time, she still makes time for one or two productions a year in community theatre. Her focus now is more on devoting the time she has to projects with non-profits, such as the Performing Arts Center of Kapolei and Camp Anuenue, where she can give back to the community.
Jones' creativity and experience are invaluable in her position as Elementary's Sustainability & Innovation Coordinator. She works closely with the grade level teachers, helping to coordinate student activities and efforts for their project-based learning (PBL). She assists students with choreography and costumes for the Grade 5 American Revolution Museum Experience; teaches Grade 3 students on-air presentation skills for their on-camera weather reports; and teaches the Grade 4 students how to prepare for job interviews during their class luau project, which integrates units on Hawaiʻi/Hawaiian Culture and Business/Finance. She also helps the classes with preparations for their Monday Assembly performances. In addition she leads the gardening curriculum for the Elementary division.
This summer, Jones taught the "Creative Art & Musical Theatre Skills" and "Musical Theatre Skills: Sing, Say, Dance, Play and More" classes during IPA's Experience & Explore Summer Program.
"Teaching the classes here was great! The kids here are so talented and have so much passion," said Jones. "I've always been joyful about teaching musical theatre. I don't necessarily have to be doing musical theatre myself in order to get joy out of it."
Students learned about puppetry, mask making, improvisation, music reading, dance, and choreography. Jones explains that through all the fun activities, the students also develop many important skills, such as self-confidence, public speaking, and self-awareness. She also points out studies that show a correlation between the dynamics of dance/music and mathematics/computational thinking.
Jones knows how important it is to expose children to the performing arts from a young age. "That's something we do very well here at IPA," she shared. "We have the resources and we recognize the value in it. It's so important to their overall education because performing arts ultimately goes back to language arts, and our history, and mathematics."
Congratulations, Katherine!
The post Elementary Faculty Katherine Jones Honored with Poʻokela Award appeared first on Island Pacific Academy.
by Tricia Murata at September 03, 2019 02:14 PM
August 30, 2019
by Evan Anderson at August 30, 2019 04:06 PM
Senior Parent Night for the Class of 2020 will be on Wednesday, August 28, 2019 at 6pm in the Radford High School Cafeteria. There will be lots of important information shared regarding senior year- credits, college/career processes, and information regarding graduation will be shared at this meeting. Representatives will also be there to take Cap and Gown orders. So we hope to see all seniors and their families at the cafe on Wed, Aug 28th @ 6pm.
August 27, 2019
Submit a healthy recipe that includes locally grown ingredients and win a two-night stay at Aulani, A Disney Resort & Spa.
The Central Theatre Arts Academy, based at Mililani High School, will produce the musical Once on this Island. Auditions are on September 5 & 6 between 3 - 6 PM. Click on this news headline to access the audition sign up.
August 26, 2019
Check out our latest Family Bulletin for Quarter 1!
August 23, 2019
Nineteen teams from across the state converged at Sacred Hearts Academy for the 2019 East O'ahu VEX Robotics Competition on Saturday, August 17, each hoping to secure a spot at the Hawaiʻi State Championship in January 2020 at the University of Hawaiʻi at Hilo. ISLAND PACIFIC ACADEMY's Navigator Robotics, team #4442X, had a great tournament and brought home both the Skills Award and the Community Award. The Navigators also placed second in the tournament match-play.
In the Skills competition, for which they received the Skills Award, the Navigators accomplished an incredible feat by posting a skills score high enough to currently rank them #1 in the world! They are currently the only team in the world with a skills score higher than 100 points, and their combined driving and programming score of 114 is currently 30 points ahead of the next best tally. The Navigators scored 112 points in the last driving attempt in what could be described as a near-perfect run.
This was also the first time in school history that Navigator Robotics was awarded the Community Award, given for their extraordinary involvement and awareness in the robotics community. Navigator Robotics embraces the IPA idea of "Whenever you can, help!" and regularly reaches out to assist other teams who need help. The team was very proud of their accomplishment, and grateful for the help and support they have received from the robotics community over the years.
Navigator Robotics came into the tournament with a new robot design. Despite prior success with their "tower bot," the team had to modify their strategies because of repeated problems with their previous design. They qualified with their new robot and finished ranked sixth with a record of 3-3. The Navigators teamed up with Highlands Intermediate (team #394A) for the single elimination match-play rounds, and were able to advance through their quarterfinal and semifinal matches with a few adjustments to their robot. The robot issues proved difficult to overcome, and they came up short in the finals against the Pearl City High School alliance (teams #4142A & 4142B), 70-57.
IPA was well represented at the tournament with several alumni also participating, including Jonah Bobilin '17 (head judge), Robyn Cabuslay '14 (skills referee), and Colton Okimoto '18 (referee).
Next up for Navigator Robotics is the 2019 Pan Pacific VEX EDR Championship at Waialua High School on November 8- 9, 2019. The Navigators will be vying to secure an automatic spot in the World Championship. In the meantime, ISLAND PACIFIC ACADEMY will be hosting a Vex VRC Tournament on Saturday, September 28, 2019. The Navigators will not be competing as they will be helping to run this prestigious event.
For more info, visit the links below.
The post Navigator Robotics Brings Home the Skills and Community Awards appeared first on Island Pacific Academy.
by Tricia Murata at August 23, 2019 06:05 PM
August 15, 2019
Click heading for more information.
To be in the Senior section of the yearbook, portraits must be taken, by appointment only, at the Lifetouch Studio by October 5. Visit bit.ly/20seniors for information ASAP!
Senior Conferences begin on Monday 8/19. If you have a senior and have not signed up for your senior conference please call Melissa at 421-4200 x241 or schedule online by going to bit.ly/classof2020seniorconferences
Letter of Notification re: Parent's Rights
by Evan Anderson at August 15, 2019 03:59 PM
Doors open at 5:00 PM. Program starts at 5:30 PM. Come join the PTSA and meet your child's teachers.
August 13, 2019
When: Friday September 6, 2019, 7:00PM Where: Timpview Football Stadium Cost: General Admission $10, Students $5 Ticket Sales: Information Forthcoming
August 12, 2019
Three colorful and inspiring murals painted by ISLAND PACIFIC ACADEMY students now brighten up the walls of the main stairwell at The Queen's Medical Center – West Oʻahu. The mural projects were a part of the goal of Queen's – West Oʻahu to become Blue Zones Project certified, in partnership with The Blue Zones Project – Ewa/Kapolei.
The Blue Zones Project is a national initiative introduced to Hawaiʻi by the Hawaiʻi Medical Service Association (HMSA). The initiative promotes healthy habits by helping people easily incorporate the best practices of the Blue Zones (Okinawa, Nicoya Peninsula, Ikaria, Sardinia, and Loma Linda) in the places they live, work, and play. It includes using the Power 9 – the nine secrets of longevity – to improve quality of health and life, and includes things like moving naturally, eating wisely, connecting with others, and having a sense of purpose. With their certification, Queen's – West Oʻahu becomes only the second health care facility in the nation to earn the designation of a Blue Zones Project Certified Worksite. ISLAND PACIFIC ACADEMY is also working towards building a healthy community, with the Grade 5 Student Action Committee helping IPA think of ways we can adopt some of the best practices of the Blues Zones on our campus.
Last year, Queen's – West Oʻahu invited all IPA students to submit artwork representing what healthy living in West Oʻahu means to them. Three designs were selected, and those three IPA students (Annie Uesugi '19, Mina Cintron '20, and Taj Tottori '26) had the honor of painting their artwork as full-wall murals in the hospital stairwell. The idea behind the murals was to transform the plain, drab stairwell into a colorful and inviting space that would encourage staff and visitors to take the stairs instead of the elevators.
The three murals represent different facets of healthy living. Uesugi's mural of a doctor expressing a healing touch depicts the importance of connecting with others. "I believe healthy living starts with good emotional connections with people and with trust, especially with health care professionals," writes Uesugi. "I wanted to show that both doctors and patients have unique souls and ideas that can merge, and help each other thrive and become more than they were separately."
Cintron's mural shows a woman collecting fruit from the land and represents the importance of sustainability in healthy living. "My idea of healthy living is having sustainable farms produce healthy fruits and vegetables for the island of Oʻahu," she shares. "Providing and growing the fruits and vegetables can help the environment and encourage people to make healthy eating choices."
"The Veggie Run" mural by Tottori is a fun representation of the importance of vegetables in a healthy diet. "All the vegetables are running away because they are going to get eaten since they are so healthy," Tottori explains. "It's important to eat healthy foods that are good for your body."
From November 2018 to March 2019, the students worked on their murals, devoting time on Saturdays and after school. They were assisted by classmates, ceramics teacher Warren Andrade, and Advancement Coordinator Amber Camacho. The final murals were presented to the public in conjunction with the announcement of the The Queen's Medical Center – West Oʻahu Blue Zones Project certification. The murals, in addition to other projects implemented by Queen's – West Oʻahu, help to improve the health and well-being of the medical center community by making healthful changes to their environment. ISLAND PACIFIC ACADEMY is proud to partner with members in our community to help effect positive changes that benefit all.
The post IPA Students' Murals Brighten Up The Queen's Medical Center – West O'ahu appeared first on Island Pacific Academy.
by Tricia Murata at August 12, 2019 07:25 PM
August 09, 2019
The following are important notices from Aiea High School. * Parent Newsletter * Dress Code to be enforced
by Unknown (noreply@blogger.com) at August 09, 2019 11:08 AM
August 07, 2019
by Unknown (noreply@blogger.com) at August 07, 2019 01:29 PM
by Unknown (noreply@blogger.com) at August 07, 2019 01:28 PM
August 06, 2019
by Unknown (noreply@blogger.com) at August 06, 2019 03:06 AM
August 05, 2019
Special schedule for the first week of school.
August 02, 2019
by Unknown (noreply@blogger.com) at August 02, 2019 03:54 AM
The MMS School Community Council invites families to attend their annual High Interest Program and Electives Night on Wednesday, August 14 from 6:30 p.m to 7:30 p.m. in the cafeteria. HIP advisors and elective teachers will showcase their respective programs. Come learn about the various extended learning opportunities available to all MMS
students!
by Unknown (noreply@blogger.com) at August 02, 2019 03:51 AM
Gifted and Talented screening will take place on Wednesday, October 9 from 8:20 a.m. to 9:50 a.m. in the cafeteria. Applications will be made available on August 5 in the office. Return completed applications to the student's respective track counselor no later than September 16.

Blue Track Counselor - Ms. Kellie Fujimoto
Green Track Counselor - Mr. Daniel Tanioka
Red Track Counselor - Mrs. Lois Lozano
Yellow Track Counselor - Mrs. Carisse Mau
by Unknown (noreply@blogger.com) at August 02, 2019 03:42 AM
July 27, 2019
ISLAND PACIFIC ACADEMY welcomed 150 new parents to the IPA 'ohana at the 2019 New Parent Reception on July 26. This annual event held annually before the start of the new school year is a wonderful way for new families to ask questions, meet some of the faculty and staff, and socialize with other new parents.
"Every summer, just before the start of the new school year, our staff and community extend a warm welcome and aloha to the new families joining the IPA community," said Eileen Novak, Director of Admission, whose department hosted the reception. "We want all our parents to know that we are all very happy and excited to have them as part of the Navigator ʻohana."
The reception started with introductory remarks from some of the school administrators, including Gerald Teramae (Head of School), Steve Ross (Elementary Principal), and Michelle Bradley (Interim Secondary Principal).
"All of our new parents are invited to this special reception just for them. Having a community with strong parent involvement is an important part of the success of our school and we want our new parents to feel welcomed and let them know how important they are to IPA," said Gerald Teramae, Head of School.
Also on hand were officers and directors from the IPA Parent Association (IPAPA). Parent involvement and support is so important for the activities and events IPAPA puts on throughout the year, and ensuring parents feel comfortable and included from the start is important to IPAPA.
"I want to be one of the first to congratulate you as parents and family members of students coming into IPA. You are all now our newest official members of IPAPA," IPAPA Vice President Beata Triplett told the new parents. "We encourage you all to get to know us, because we would love to get to know you!"
IPAPA Grade 11-12 director, Paul Chapman, was pleased to see so many new parents take the time to come to the reception. "I missed the reception when my children started school, but being part of the IPA family for the past 12 years, it's neat to see the excitement on the new parents' faces as they're coming into our incredible school."
Following the program, parents socialized on the lānai and enjoyed heavy pupu and drinks. Desserts were provided by the Student 2 Student Project, conceived of and run by an IPA student as a way to pay it forward by providing financial assistance for students who would otherwise be unable to to participate in class trips, camps, and athletics.
We warmly welcome all of our new families joining the IPA community for the 2019-2020 school year!
The post New Parents Welcomed to the IPA Family appeared first on Island Pacific Academy.
by Tricia Murata at July 27, 2019 08:14 PM
July 22, 2019
On July 17-18, 2019, ISLAND PACIFIC ACADEMY's Navigator Robotics, team #4442X, had tremendous success at the 2019 VEX VRC Signature Event, the Mark Leon Invitational.  This was the first World Championships qualifying tournament of the season. The qualifier, called the Excellence Award, is given to the team that places at the top of multiple criteria. Besides on-field performance and skills performance, the Excellence criteria includes documentation quality, sportsmanship, and face-to-face interviews.
The Navigator Robotics team was considered a contender for the Excellence Award, but it ended up going to another school. In the end, the Navigators won the Tournament Championship and 2nd Place in the Skills Challenge.
The competitive field of 25 teams was comprised of six teams from China, seven US teams from California, Texas, Minnesota and Connecticut and 12 teams from the Aloha State.
The Navigators started off the first day of qualification matches with three straight losses. Despite the slow start, they were able to get into the win column, eventually going undefeated for the rest of the tournament. IPA had the toughest strength of schedule, facing five of the top six ranked teams throughout the qualification rounds. To put it into perspective, the top six teams only averaged two matches facing the top six. IPA's record of 7-3 was good enough to get them ranked #8 in regulation.
The alliance selection process to determine the playoffs resulted in the same outcome as the prior tournament just a month ago. Powerhouse Pearl City High School, team #4142B, selected IPA to be their alliance partner. In their quarterfinal match, this #1 ranked alliance was able to surpass teams #843H (from Minnesota) and #4109A (808 Robotics) 26 to 18. Their semi-final match was against a familiar opponent, team #42700D (The Crusaders) and team #3303D (California). IPA and Pearl City were able to move on with a score of 46 to 21. The last match against teams #25461Z (Texas) and #21000C (California) proved to be an exciting finals. The scoring went back and forth as IPA fended off both teams while controlling the towers, thereby allowing Pearl City to score three tall stacks. The final score of 64 to 48 was the highest combined match score of the tournament.
ISLAND PACIFIC ACADEMY was well represented at the Mark Leon Invitational, with IPA alumni and former students participating.
Jonah Bobilin ( '17): Head judge
Colton Okimoto ('18): Referee
Joshua Kuakini (Team #42700D): Qualified 6th and tournament semifinalist, Skills challenge 4th place
Ryan Corpuz (Team #42700D) Tournament volunteer, assisted IPA prior to transferring schools
Navigator Robotics #4442X is coached and mentored by Jeff Sumitani, Robyn Cabuslay, and Kyle Okimoto.  Navigator Robotics will be preparing for their next tournament – the East Oahu Vex Robotics Competition at Sacred Hearts Academy on August 17, 2019.
Mahalo for your continued support of the Navigator Robotics Team.
The post Navigator Robotics are Tournament Champions at 2019 VEX VRC Mark Leon Invitational appeared first on Island Pacific Academy.
by Tricia Murata at July 22, 2019 02:55 PM
by Unknown (noreply@blogger.com) at July 22, 2019 11:24 AM
July 19, 2019
For more info, please click on this link: http://bit.ly/HIDOE-Chapter-19
July 17, 2019
Please note that Radford High School will be closed during business hours on August 1st due to an all day staff development function.
Incoming freshman will report to their Advisory rooms (locations will be posted). New incoming 10-12 grade students will report to the Library. Dismissal is at 12:55. Bus pick up is at 1:00. All returning students begin on August 6.
July 15, 2019
Take a look at next year's school calendar to assist you with your planning needs.
by Unknown (noreply@blogger.com) at July 15, 2019 10:46 AM
by Unknown (noreply@blogger.com) at July 15, 2019 09:16 AM
by Unknown (noreply@blogger.com) at July 15, 2019 06:26 AM
by Unknown (noreply@blogger.com) at July 15, 2019 06:25 AM
by Unknown (noreply@blogger.com) at July 15, 2019 06:24 AM
by Unknown (noreply@blogger.com) at July 15, 2019 06:22 AM
July 08, 2019
July 01, 2019
Get prepared for the new school year at Operation Jump Start (OJS).
June 29, 2019
The Asbestos Hazard Emergency Response Act (AHERA) requires our school to notify parents,
faculty,
and staff of the presences and status of asbestos-containing materials in school buildings. The law further requires a management plan based on the findings of the initial inspection. We are fortunate as Mililani Middle School does not have any asbestos-containing materials in our school buildings. Please contact Vice Principal Jacob
Kardash or
Greg Nakasone for additional information.
by Unknown (noreply@blogger.com) at June 29, 2019 09:00 PM
June 19, 2019
Please complete this form and submit it with your fee payments.
June 18, 2019
June 17, 2019
ISLAND PACIFIC ACADEMY's Navigator Robotics (Team #4442X) had tremendous success under new robotics coach, Jeff Sumitani (IPA Technology Specialist), at the ESPN Honolulu Sports Festival VEX Robotics Challenge on Saturday, June 16 . The Navigators took home first place in every category – Tournament Championship and Robot Skills Champion awards – instantly qualifying them for the State Championship.
The event kicked off the 2019-2020 season as the first tournament in the world using the new VEX challenge – "Tower Takeover." This new challenge was introduced only seven weeks ago so the team did not have a lot of time to design, build, program, and develop a strategy before the tournament. In addition, the team did not receive their practice field so they tested their robot at Waianae Intermediate School a week before the competition.
IPA's Navigator Robotics Team #4442X is comprised of David Pavlicek '20, Nathan Okimoto '22, Zaheer Gulko '22, and Ryan Corpuz '22. The team members have worked tirelessly, even while studying for finals, and their efforts paid off this weekend.
Following the qualifying round, the IPA Navigators were ranked third (7-3 win/loss record). Perennial powerhouse Pearl City High School (Team #4142B) invited IPA to be in their alliance and the team graciously accepted. The alliance faced the St.Louis Crusaders (Team #42700D) and the other Pearl City High School team (Team #4142A) in the finals. Although the single elimination playoff final match had to be restarted after some technical difficulties, the alliance held off a strong charge to come up with a dramatic 41-39 win.
IPA was well represented at the tournament, with IPA alumni and former team members present. Robyn Cabuslay, former IPA robotics coach, volunteered to help mentor the Navigators, and Colton Okimoto '18 served as referee. Former IPA student Josh Kuakini placed second in both the team event and skills challenge events for his current team. Josh may have been on a new school team, but the lasting bond between the robotics members had them rooting for each other throughout the tournament and practicing together in the weeks leading up to the weekend. This great show of sportsmanship and camaraderie was inspiring and something to be very proud about.
Next up is a VEX VRC Signature Event, the Mark Leon Invitational, to be held July 15-18, at St. Louis School. This prestigious tournament already has teams from Pennsylvania, Minnesota, California, Texas and China entered. This event will send at least one team to the World Championships in the mainland.
For more information about the event, visit the tournament website.
The Navigator Robotics team is grateful for the continued support of the IPA community.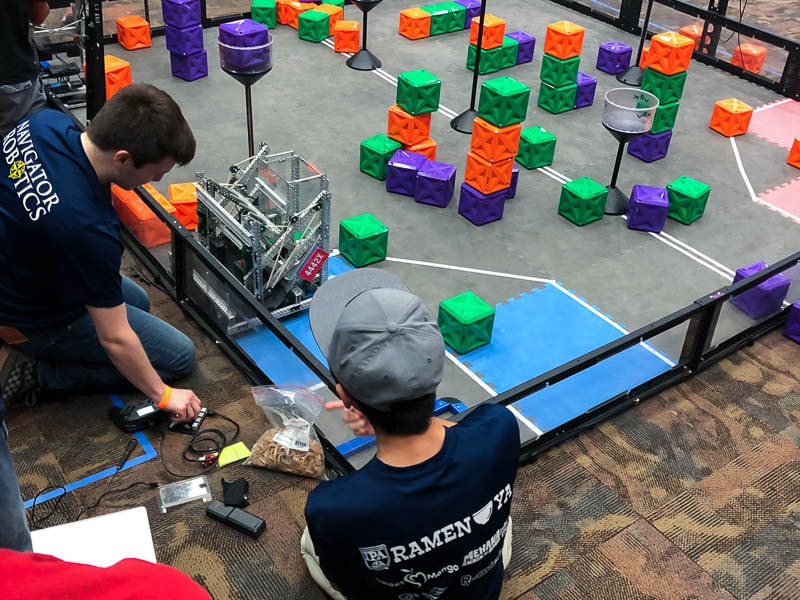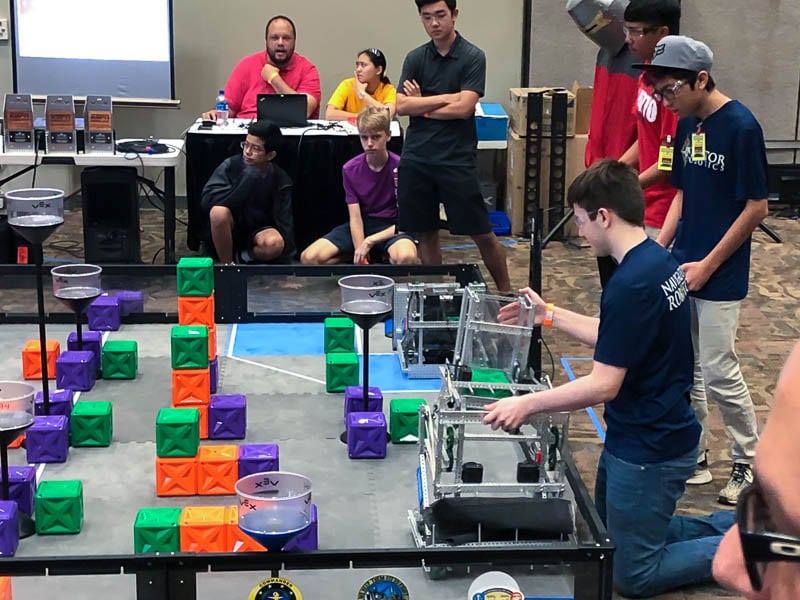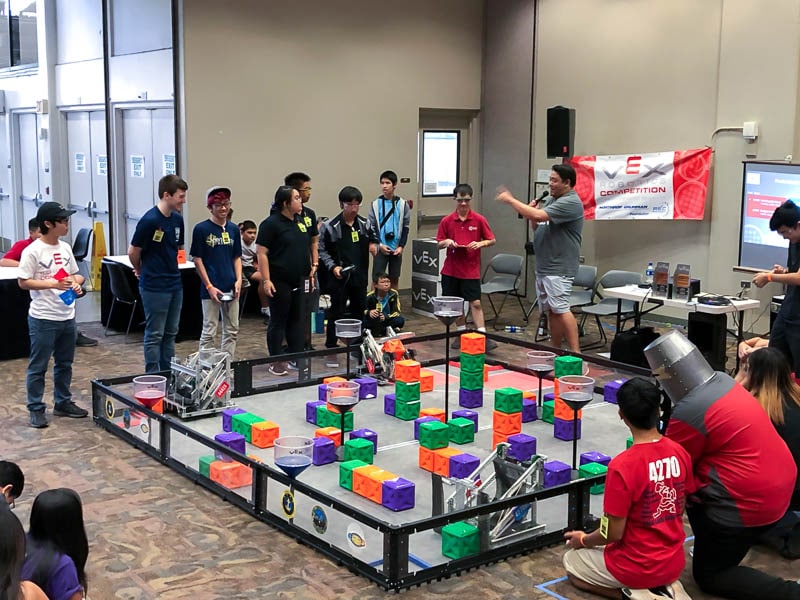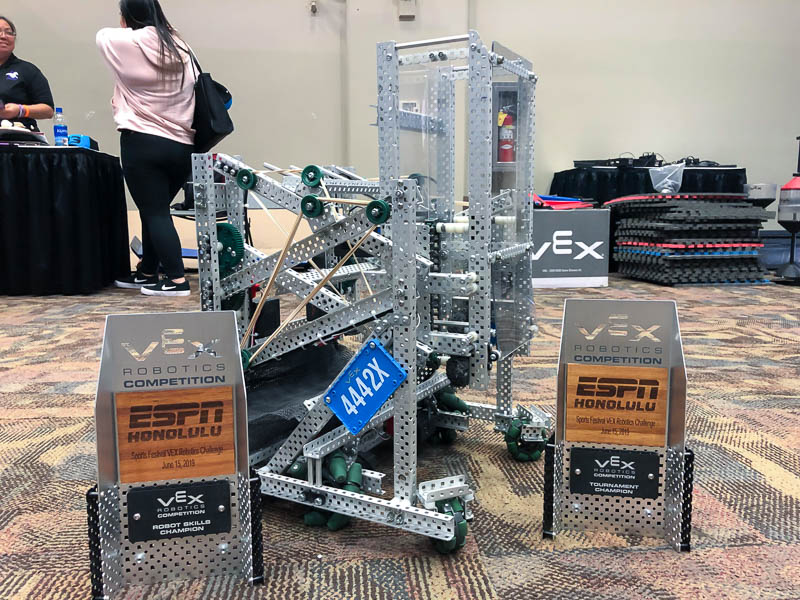 The post IPA Navigator Robotics Team Qualifies for State Championship appeared first on Island Pacific Academy.
by Tricia Murata at June 17, 2019 05:26 PM
by Unknown (noreply@blogger.com) at June 17, 2019 08:33 AM
June 10, 2019
Please click on this heading to find out details for picking up your Driver's Education Certificate during the summer.
June 03, 2019
LJA's Middle School celebrated their classmate Lily L. '23 who is Hawaii's Children Miracle Network Hospitals Champion. In this role, Champions like Lily share their powerful stories throughout the year. Lily and her family attends countless events, and Lily is this year's face of Hawaii's Children Miracle Network. Click here to see Lily's inspirational story and why she is a champion not just for Hawaii's Children Miracle Network, but for LJA.
May 29, 2019
Mahalo to all the golfers who came out for ISLAND PACIFIC ACADEMY's 12th Annual Golf Tournament and helped make it a big success! This year's tournament, held  at the Hawaiʻi Prince Golf Club on May 16, 2019, sold out even before the registration deadline, with more than 150 golfers, 21 tournament sponsors, and 7 in-kind sponsors participating. The event raised more than $30,000 in support of the IPA Athletics Department and other programs.
It was a fun-filled day with much to keep the golfers entertained before, during, and after their round. Before heading out to the course, golfers enjoyed lunch by Kalapawai Market and loosened up with free chair massages by Rebound Hawaiʻi. They also had fun participating in the putting contest for a chance to win some great prizes.
On the course, golfers were kept full and hydrated with food and beverage stations hosted by Tropics Ale House, Superb Sushi, Big Island Burritos, and Island Real Estate Pros, and a well-stocked roving beverage cart. On-course contests kept the competition lively, including closest-to-the-pin, longest drive, and the hole-in-one on two of the par-3 holes with a chance to win a trip to the Superbowl or the Masters.
The tournament was followed by a dinner buffet and awards banquet with raffle drawings for fabulous prizes, including a two-night stay at Kauai Marriott Resort & Beach Club with airfare, two nights at the Ritz-Carlton Waikīkī, rounds of golf at Hoakalei Golf Club, a Yeti cooler, Ping golf bags, and a custom stainless steel grill. Every player received a raffle ticket with their entry fee, but many increased their chances of winning by purchasing additional raffle tickets by the arm's-length before the round. The players with the longest arms found themselves to be very popular, and volunteers shared techniques to get an extra couple of inches to their strip of tickets.
One of the traditions of the IPA Golf Tournament is how teams are selected for prizes. Years back, tournament organizers decided to honor meaningful dates for IPA by the team awards given out. This year, in addition to recognizing the usual top place finishers, prizes were also given to the teams who came in 12th, 19th, and 24th place, representing the 12th year of the tournament, the Class of 2019, and the 24 students making up this year's graduating class, respectively. Congratulations to the winning team of Donna Smallwood, Nick Smallwood, Kerstin Alston, and John Sego who shot a net score of 40.4! Their names will be added to the IPA Golf Tournament perpetual trophy.
IPA Director of Advancement, Be-Jay Kodama, was pleased with the tournament success and grateful for the assistance of all the volunteers who help plan and run the tournament. "Thank you to the many volunteers – from the seniors of the class of 2019, to IPA Golf Tournament Committee members Kerstin Alston (IPA Parent '25) and Donna Smallwood (IPA Parent '22, '24), and all the IPA parents, grand-parents, coaches, and administrators who gave of their time and shared the IPA spirit," said Kodama. "Your spirit shined!"
Head of School, Gerald Teramae, echoed her sentiments. "Mahalo to the many supporters, volunteers (students and adults), faculty, and staff of our 12th annual golf tournament," he shared. "Your support and hard work for our golf tournament will greatly impact the opportunities our student-athletes are afforded through our 22 athletic sports."
"We look forward to seeing everyone for next year's tournament!" added Teramae.
ISLAND PACIFIC ACADEMY is grateful to all who participated and made this year's tournament a tremendous success.  Sponsors, donors, providers of gifts in-kind, and golfers gave generously to support our students, and that support impacts our students in so many ways.
Our 2019 tournament sponsors were:
Blue Sponsors: Domino's Pizza Hawaiʻi and Reflections Glass
Gold Sponsors: First Hawaiian Bank; HawaiiUSA Federal Credit Union; Wasa Electrical Services; West Oʻahu Dental Center; and The Wilhelm Group
Silver Sponsors: Brett Hill Management Group; Complete Dermatology; InPac Wealth Solutions; Island Insurance; Island Sun Real Estate Pros; KSF, Inc.; Lifeline Fire & Security; The Queen's Health System; R & L 'Ohana Insulation; RevoluSun; Ronald N.S. Ho & Associates; Systemcenter; WE Painting; and Torkildson, Katz, Hetherington, Harris & Knorek
In-Kind Sponsors: Big Island Burritos; HONBLUE; Kalapawai Market; Superb Sushi; Tropics Ale House
Hole Sponsors: Wilson Okamoto Corporation and Hawaiian Dredging & Construction
Prizes, swag bag items, and donations were generously provided by: AMSCO; BSN Sports; Big City Diner; Big Island Candies; Brian Mogg Golf Academy; Central Pacific Bank; Community Planning and Engineering, Inc.; Cornerstone Family Chiropractic; DK Restaurants; ESPN Honolulu; Hawaiʻi Convention Center; Hawaiʻi News Now; Hoakalei Country Club; The Islander Group ; J & J Wine & Spirits; KAI Hawaiʻi, Inc.; Kauai Marriott Resort & Beach Club; Kō Hana Distillers; Ko Olina Golf Club; Pagoda Restaurant & Catering; Panda Travel; Paradise Beverage; Pipeline Bakeshop & Creamery; Makani Golf Club; Mililani Golf Club; Nordic PCL; Rainbow Drive-In; Raising Canes; Ray Sportswear, LLC; Rebound Hawaiʻi; Riggs Distributing; Ritz-Carlton Waikīkī; Roger Dunn Golf; Royal Hawaiian Golf Club; Ruby Tuesday Hawaiʻi; Turtle Bay Golf; UHA Health Insurance; Trisa Aki; Jeanne Arakawa; Steve Brown; Michelle & Darren Cabral; Jeff & Amber Camacho; Christine Chau; Susan Eichor; Elmer Esmeralda; Jeffrey & Marised Gillette; Lori Hieger; Clifford Horita; Jodi Kenessey; Diane Kodama; Gregg & Be-Jay Kodama; Pat Liu; Heather Lofton ; Todd & Tricia Murata; Donna Smallwood; Jessica Swartz; Ruby Taaca; Gerald Teramae; Karla Teramae; Brian & Lori Thompson; Lance Wilhelm; Tim & Char Wilson; Michelle & John Wimberley; Kevin & Debbie Yoshino
Our hard working and dedicated volunteers were: David Briscoe; Jeff Camacho; Denton Chun; Marised Gillette; Rachel Holmen; IPA Class of 2019; Alyssa Kuffel; Bart Lofton ; Lily Patel; Sid Patel; Rachel Suerth; Ruby Taaca.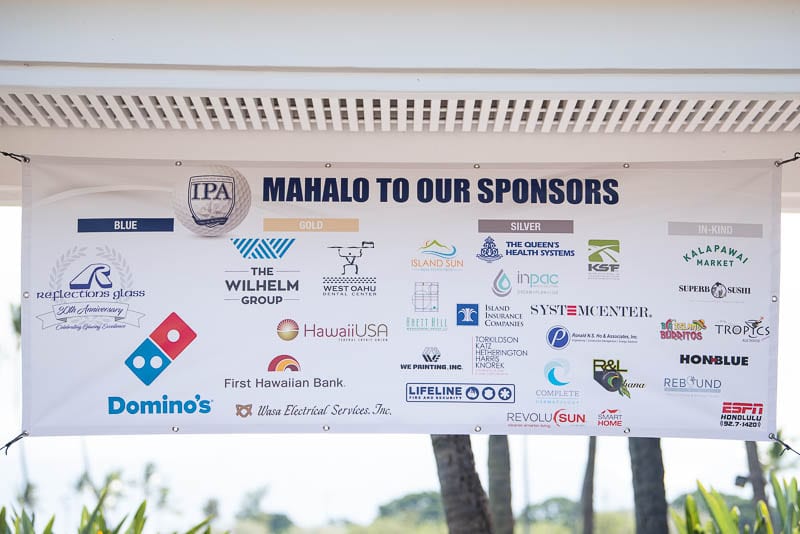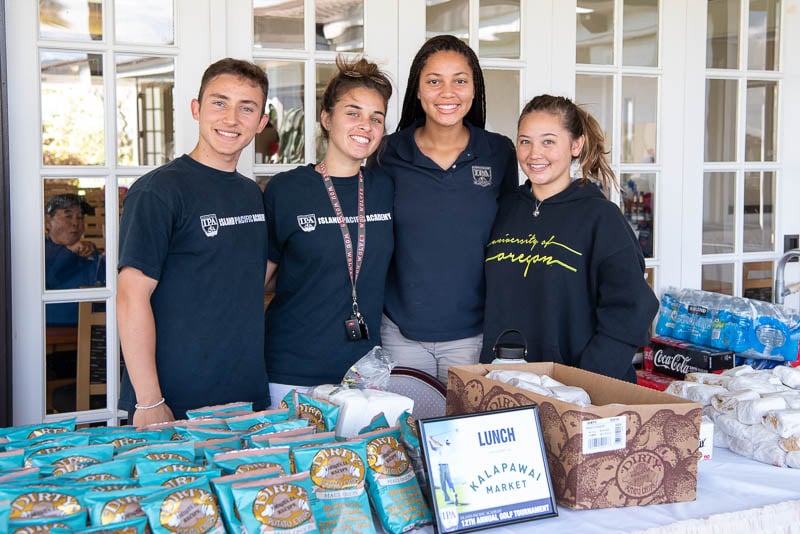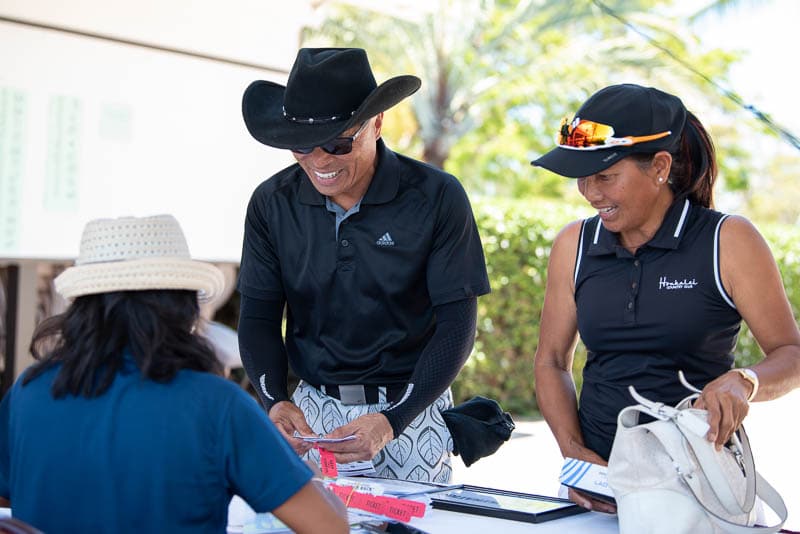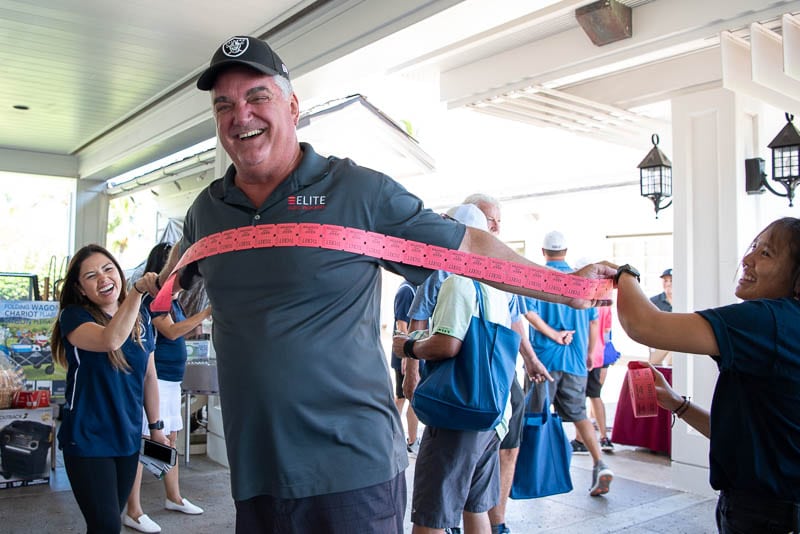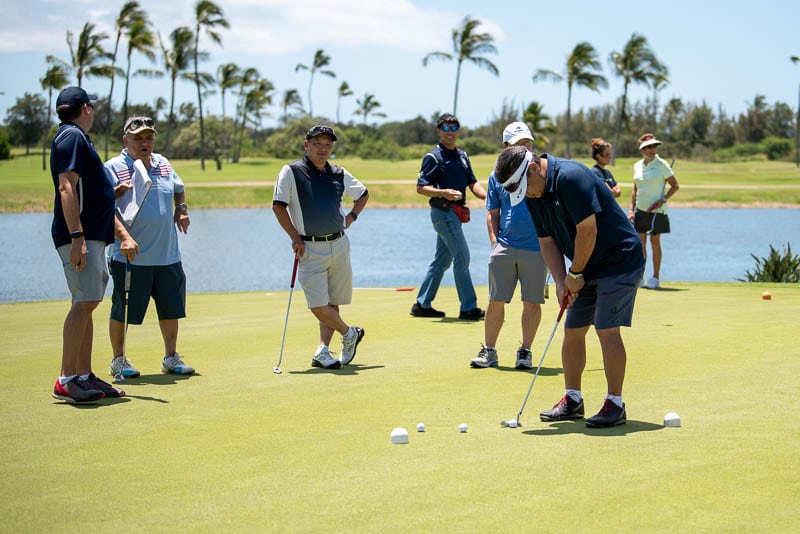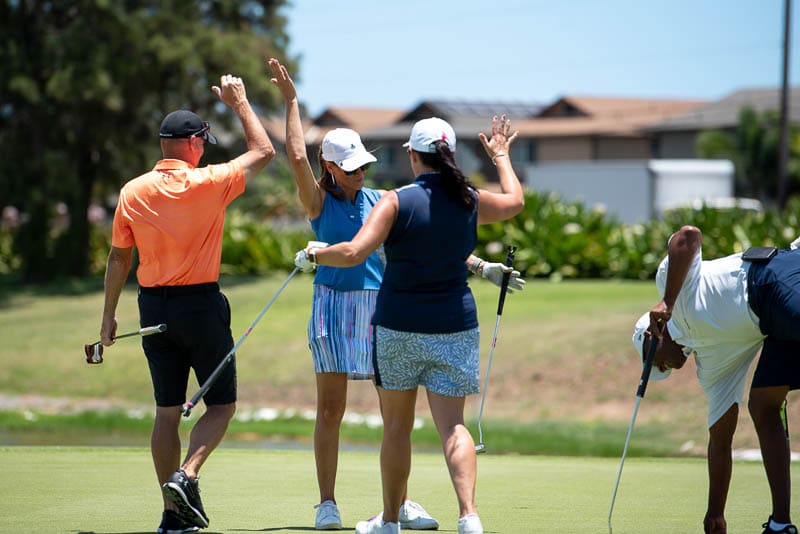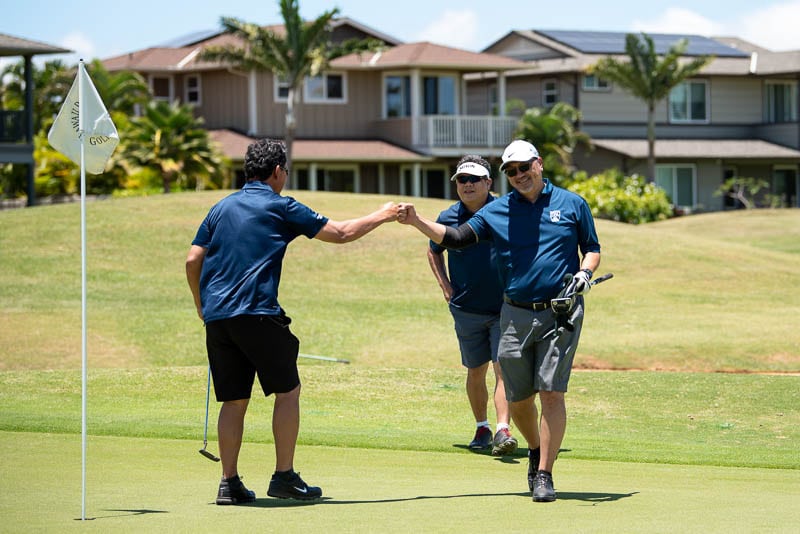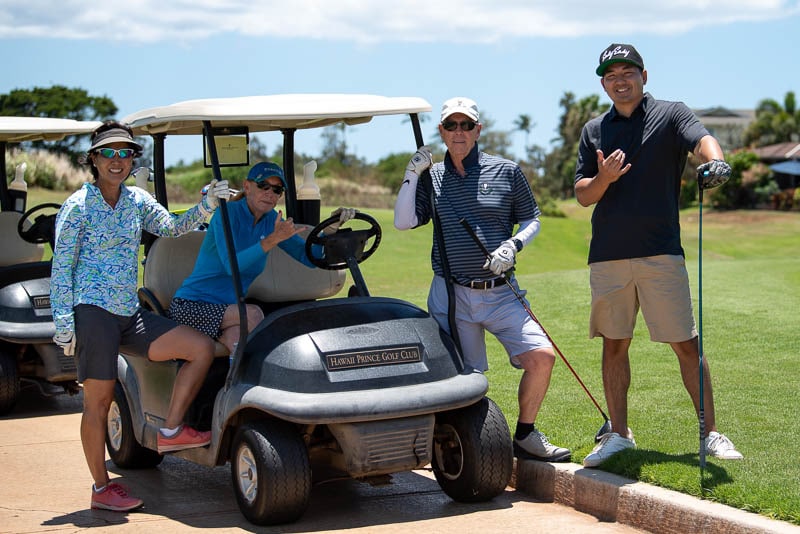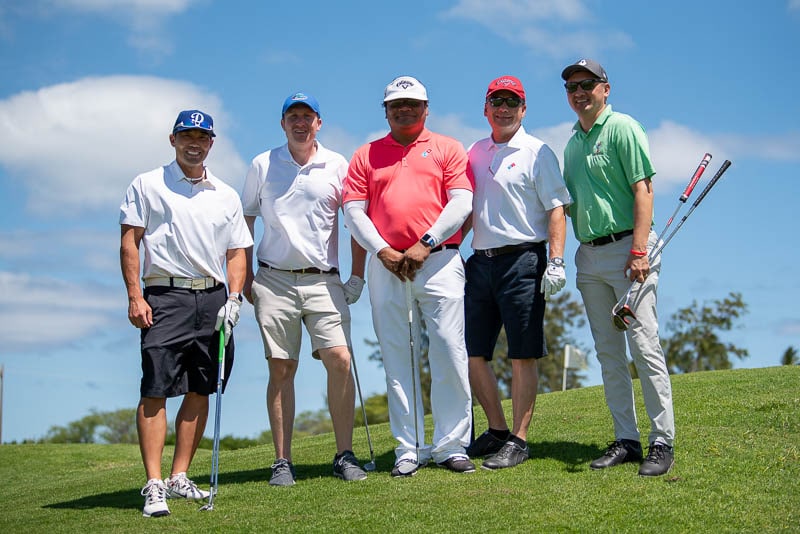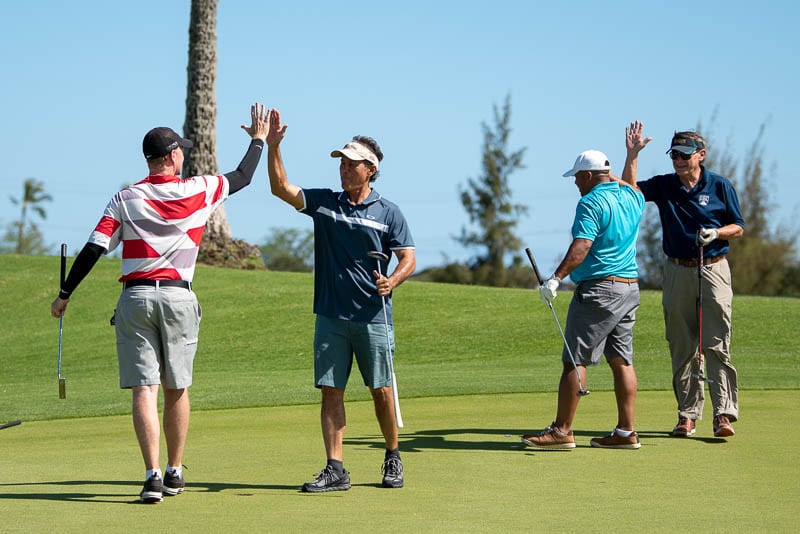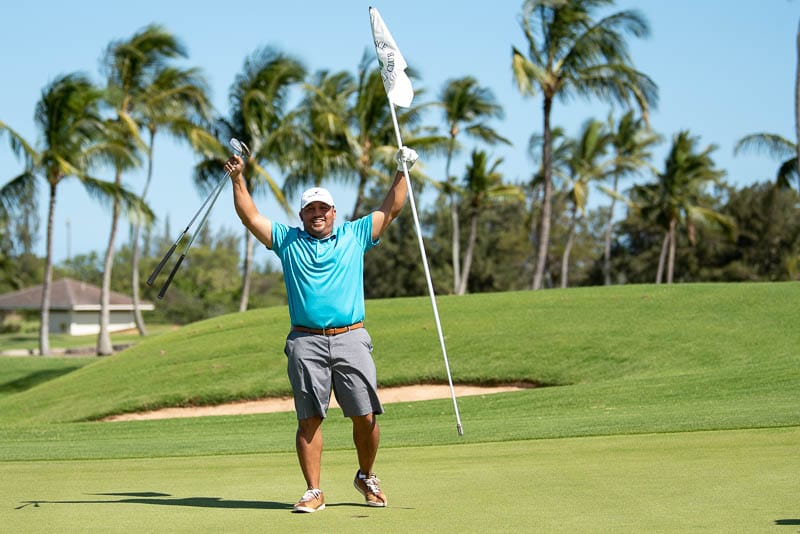 The post 12th Annual IPA Golf Tournament Wrap Up appeared first on Island Pacific Academy.
by Tricia Murata at May 29, 2019 11:11 PM
May 28, 2019
Students will have two extended periods each day to allow for more time and to space out their final assessments. Buses will be scheduled to pick-up students at 12 p.m., after lunch, and Friday at 10 a.m. after recess/mini-lunch. Action Periods will be available to students after lunch for teacher help, to make-up finals, or for other supports. Students will be responsible for their own transportation if attending Action Period. The Attendance Policy will apply. Please view the Finals Schedule here: http://bit.ly/KHISfinals or click on the above title.
May 24, 2019
Please go to the Kahuku Yearbook page for more information regarding senior yearbook requirements and deadlines.
May 23, 2019
by Unknown (noreply@blogger.com) at May 23, 2019 03:57 AM
May 22, 2019
Due to our May Day program and Curriculum Fair on Friday, school will end at 2:15pm on Wednesday and at 1:25pm on Friday. Mahalo!
p.p1 {margin: 0.0px 0.0px 0.0px 0.0px; font: 10.0px 'Lucida Grande'} p.p2 {margin: 0.0px 0.0px 0.0px 0.0px; font: 10.0px 'Lucida Grande'; min-height: 12.0px}